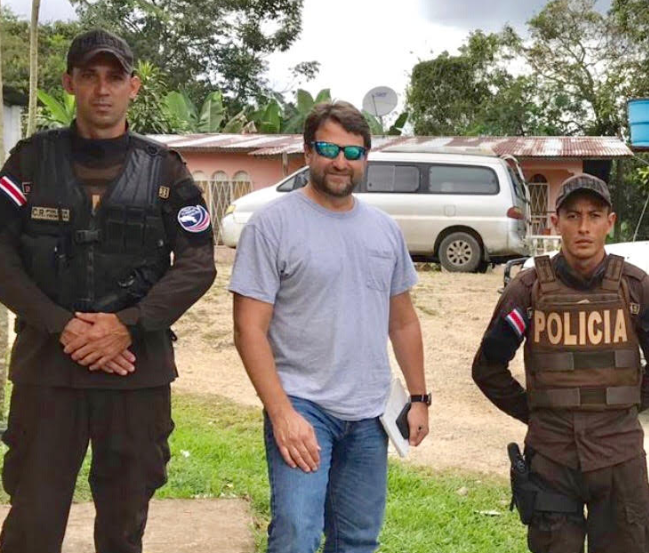 In December 2018, the Center for Immigration Studies dispatched Senior National Security Fellow Todd Bensman to Panama and Costa Rica to investigate President Donald Trump's widely ridiculed assertions that suspected terrorists had been apprehended among Middle East migrants through Latin America. Hint: It was all true. Video reports, photos, and writings from the trip can be found here.
Golfito, Costa Rica — It was here in March 2017, at the main aluminum structure of a government migrant camp, that federal Costa Rican police arrested Ibrahim Qoordheen of Somalia as a suspected al Shabaab terrorist operative on his way to the U.S. southern border.
Qoordheen had been smuggled from Zambia to Brazil, passed through Panama, and was making his way north through Costa Rica when the Americans had him arrested here, 20 miles inside Costa Rica, according to an American intelligence official with knowledge of the case who spoke on condition of anonymity. The Golfito camp, with a capacity of 250, was set up as a two-day rest station for South America-exiting migrants whom the governments of Panama and Costa Rica register and help move through northward to Nicaragua.
Golfito migrant camp, Costa Rica where Ibrahim Qoordheen was arrested in 2017. Photos by Todd Bensman.
Golfito migrant camp, Costa Rica.
Luckily, the Somali stayed long enough for an American intelligence analyst working with the name he had provided in Panama to unscramble it and match it to a pre-existing intelligence file that identified him as intertwined with an al Shabaab cell and smuggling network in Zambia, the U.S. intelligence official said.
The Americans interviewed Qoordheen at length, but the Somali gave up nothing, the U.S. officer said. The Americans then arranged to have him deported to Zambia, the officer said. It turns out the Qoordheen case was only one of other such episodes about which the American public was never told, where terrorist suspects were discovered migrating through Latin America to the U.S. border.
Terrrorists Know the U.S. Border Is Not Secure
A Costa Rican immigration service official whose jurisdiction includes the Golfito camp disclosed that at least several other U.S.-bound suspected terrorists also were pulled from this camp since Qoordheen's March 2017 arrest, likewise based on significant derogatory U.S. counterterrorism intelligence. The Costa Rican official declined to provide specifics of the intelligence beyond that it involved terrorism, offering only that: "Most are good, but some are bad."
The American public was never told that Qoordheen and other suspected terrorists were pulled off U.S.-bound migrant routes in distant Costa Rica and Panama because such information is usually classified or not disclosable, in line with standard practice to protect ongoing investigations and operations.
That necessary opacity, unfortunately, seems to have given life to denialism about President Trump's claims that terrorists are among migrants from countries of terror concern, like the Middle East. The skeptics have demanded proof then cited Trump perfidy when protected intelligence wasn't provided. Trump's assertions were thus ridiculed and dismissed as unsupported fear-mongering.
But the rejectionists, many of whom obviously do not know that a central homeland security practice is threat preemption, are wrong. Down here, on the southern-most leg of migrant routes to the American border, it is they who invite ridicule and eye rolls.
American, Panamanian, and Costa Rican law enforcement and intelligence officials are engaged in actual programs here to hunt, investigate, and deport real terrorist suspects who are, in fact, discovered among the thousands of migrants from the Middle East, Horn of Africa, and South Asia funneling through this section of Latin America—as President Trump said and as I saw and heard on the ground.
READ THE REST HERE IN THE FEDERALIST