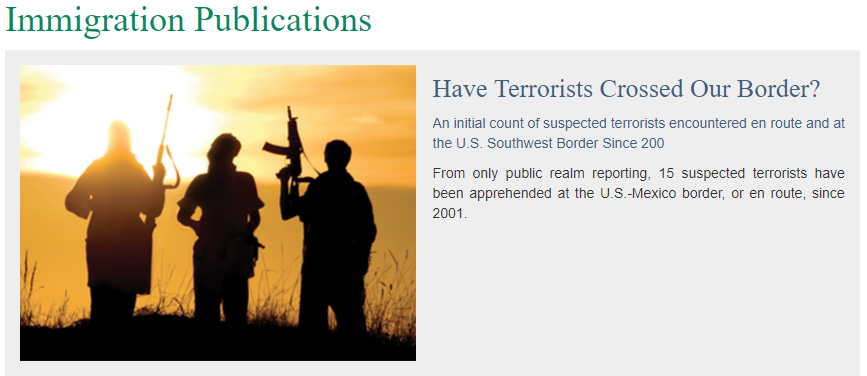 On several occasions in October 2018, President Donald Trump and some administration officials suggested that migrants from Middle Eastern countries might have traveled among the thousands of Hondurans in a U.S.-bound column. Later, the president stated he had "very good information" that Middle Eastern migrants had been traveling through Latin America for a number of years, independently of migrant columns, that "there could very well be" Islamic terrorists in this traffic, and that U.S. Border Patrol has intercepted "some real bad ones".1
The administration did not provide either publicly available or protected Classified and Law Enforcement Sensitive information to support the assertions, leaving them challenged and unresolved, whereas more information might have advanced discourse regarding a significant security question relevant to an ongoing national policy debate. Republican Sen. Jeff Flake, in one emblematic expression, dismissed the idea of Middle Eastern travelers through Latin America and potential terrorists among them as "pretty much a canard and a fear tactic".2
This Backgrounder provides an initial accounting of publicly documented instances, between 2001 and November 2018, of some 15 migrants with credibly suspected or confirmed terrorism ties who were encountered at the southern border after smuggling through Latin America, or who were encountered while presumably en route. The purpose of this Backgrounder is to inform the extent to which claims by the Executive Branch and its skeptics are supportable and also to usefully inform any other interested stakeholders.
Key findings:
From only public realm reporting, 15 suspected terrorists have been apprehended at the U.S.-Mexico border, or en route, since 2001.
The 15 terrorism-associated migrants who traveled to the U.S. southern border likely represent a significant under-count since most information reflecting such border-crossers resides in classified or protected government archives and intelligence databases.
Affiliations included al-Shabbab, al-Ittihad al-Islamiya, Hezbollah, the Pakistani Taliban, ISIS, Harkat-ul-Jihad-al-Islami Bangladesh, and the Tamil Tigers.
At least five of the 15 were prosecuted for crimes in North American courts. One is currently under Canadian prosecution for multiple attempted murder counts. Of the four in the United States, one was prosecuted for lying to the FBI about terrorism involvement, one for asylum fraud, one for providing material support to a terrorist organization, and one for illegal entry, false statements, and passport mutilation.
Suspected Migrant-Terrorists
This prosecution demonstrates the vigilance of the federal government in detecting and disabling individuals who seek to enter the country illegally with the purpose of doing harm. We will continue to be aggressive in protecting our borders and seeking severe punishment for those who violate our laws.
— Western District of Texas U.S. Attorney Robert Pittman, speaking of the sentencing of a Somali al-Shabaab terrorist who crossed the Mexico-Texas border, July 25, 2013.
From intelligence community sources with access to protected government information, the Center for Immigration Studies has learned that at least 100 migrants from "countries of interest",3 encountered between 2012 and 2017 at or en route to the southern border, matched the U.S. terrorism "watch lists" known as the Terrorist Identities Datamart Environment (TIDE), or the Terrorist Screening Database (TSDB). The number of such law enforcement land border encounters with such watch-listed migrants has risen drastically each year after 2012, according to the information, which is deemed credible but could not be independently corroborated.
As many as 50 TIDE- or TSDB-listed migrants were first encountered at the southern U.S. border during 2012-2017, while unspecified numbers of others were first encountered by a cooperating government along known routes leading to the U.S. border. Individuals would have been placed on TIDE or TSDB when security officers, at some point prior to the encounter, judged they met "reasonable suspicion" or "articulable evidence" thresholds that the migrant was a "known or suspected terrorist."4
For perspective, the 100 or so watch-listed migrants logged from 2012-2017 compares to roughly 3,000 "special interest alien" migrants from countries of interest who are annually apprehended at the southern border.5 This indicates a small ratio of terrorist suspects apprehended at the border, though a high number considering the threat that any one of them poses is outsized and of high consequence. Still, these figures represent only publicly reportable cases and would not represent, for instance, terrorism-associated migrants who evaded detection altogether or who simply had not been watch-listed or never raised suspicion after apprehension as they were released pending asylum claims into the country's interior.