America's Covert Border War
The Untold Story of the Nation's Battle to Prevent Jihadist Infiltration
NOW AVAILABILE from Post Hill Press/Bombardier Books and distributed by Simon & Schuster…Available on Kindle and Nook
---
Order the Book Below or Anywhere Books are Sold
FOR BULK PURCHASE DISCOUNTS, LINK HERE
---
*Sample the Complete Chapter Six in Homeland Security Today: "Cat and Mouse: The Kingpin Smugglers"
---
About the Book
The book by journalist Todd Bensman, AMERICA'S COVERT BORDER WAR, is now available on Amazon, Barnes & Noble, and other links below. This 13-year work of journalism finally settles, for the first time, one of the nation's most contentious and politically powerful ideas about the southern border: that Islamic jihadists might infiltrate over it and commit terrorist acts. Perhaps no other idea about the American border has sown more conflict, claims, counter-claims, rebuttals and false narratives on all sides as this one. This book provides a first comprehensive neutral baseline of truth about the threat, goring oxen on both sides of the partisan divide. It reveals, for the first time, that after 9/11 America mounted secret (ongoing) counterterrorism campaigns at the southern border and far beyond – and that they have worked surprisingly well to date, preventing attack on the homeland. This is the untold story of those hidden American border programs, how they succeeded, why they're faltering at a time when the risk of border infiltration attack is elevated, and what should be done to repair the enterprise before Americans finally suffer the consequences.
Americans concerned by unchecked global migration, porous borders, and national security will feel surprised to learn that thousands of migrants from the Islamic world breach the U.S.-Mexican border each year, despite media insistence that these long-haul travelers are imagined, as are the hardened jihadists caught among them each year. This is an intelligence world insider's story of the ambitious and intrigue-laden covert American counterterrorism programs built after 9/11 from the U.S. border to the tip of South America. They were created to protect Americans from a supposedly notional infiltration threat, the same that has been killing and wounding thousands in Europe in recent years. A surprising conclusion: the American effort has prevented attack on the homeland so far, shielding an unappreciative and unknowing nation from the migrant-jihadist bloodshed Europe has suffered since organized terrorist border infiltrations there began in 2015 and continue today.
But how much longer can these programs stave off Europe's fate without the public recognition that they exist, and the care and attention they deserve?
DHS Secretary Alejandro Mayorkas Acknowledges a "Multi-layered security architecture" Built to Apprehend Terrorist Infiltrators. What's He's Talking About?
America's Covert Border War
Watch Secretary Mayorkas before the House Homeland Security Committee March 2021
---
ABOUT THE AUTHOR
Todd Bensman is an award-winning newspaper reporter and magazine writer who transitioned to a career as a national security intelligence professional for the Texas Department of Public Safety and then returned to writing and publishing. He currently serves as the Texas-based Senior National Security Fellow for the Center for Immigration Studies (CIS), a Washington, D.C. policy institute for which he writes, lectures, and grants media interviews about the nexus between immigration and national security. He has testified before Congress as an expert witness and regularly appears on radio, television, podcast and online news outlets for his national security and border security expertise. Separately, he reports on international and domestic terrorism matters for major online news sites and teaches terrorism, journalism, and intelligence analysis as a university adjunct lecturer.
Bensman was born in Houston, Texas and raised in Phoenix, Arizona before moving to Alaska to work as reporter and then, after traveling long roads reporting in dozens of countries, settled in his native Texas and began working both sides of his state's long border with Mexico. He is the recipient of two National Press Club awards for his foreign reporting, an Inter-American Press Association Award, and two Texas Institute of Letters awards among many others. In line with his hybridized journalism-intelligence career, Bensman holds a master's degree in journalism from the University of Missouri to go with his master's degree in security studies from the Naval Postgraduate School.
---
Praise for America's Covert Border War
"It details what is really going on and coming across our border at any given time. And the details are actually quite terrifying." – Glenn Beck, broadcaster
"America's Covert Border War is a singular contribution to reporting on the nature of America's post-9/11 efforts to secure the U.S. homeland, and a necessary refutation of a lie by omission that a politicized media has perpetrated upon the American people." – Kyle Shideler, director and senior analyst for homeland security and counterterrorism at the Center for Security Policy.
"You won't find much information about these operations in the news media. The most comprehensive source of information I have found is Todd Bensman's book, America's Covert Border War: The Untold Story of the Nation's Battle to Prevent Jihadist Infiltration." – Nolan Rappaport, opinion writer for The Hill
"In his new book, "America's Covert Border War: The Untold Story of The Nation's Battle to Prevent Jihadist Infiltration," Bensman delivers an accurate and nonpartisan look at the threat, details what the American counterterrorism effort has done behind the scenes to address it, and how the counterterrorism project can be strengthened as the threat of terrorist infiltration intensifies. Bensman takes both Republicans and Democrats to task over cases of the former overstating the threat and the latter completely understating it." – Leah Barkoukas, online features editor for Townhall.com
"I highly recommend everyone to purchase this book. It probably has some of the most insightful, first-hand accounts of what's going on with our immigration all throughout Latin America and up through to the border and how that migration chain has evolved and can be abused by nefarious actors that are looking to basically sneak illicit actors into the United States." – Joseph Humire, Executive Director of the Center for a Secure Free Society
"The stories about smugglers are fascinating and worth reading alone, they sound straight out of a movie. Bensman flew all over the world tracking down sources for firsthand information." – Rachel Alexander, Editor of The Intellectual Conservative
"Bensman thus provides revealing insight into a little examined, yet vital topic. As he shows, America's southern border is one vulnerable point of entry for jihadists into the United States, which only often unheralded vigilance has kept closed. Maintaining this vigilance will require wider public understanding of the border security operations Bensman has experienced firsthand."- Andrew Harrod, author and writer for The Blitz and other publications
"Todd Bensman is one of the last remaining authentic counter terrorism experts and investigators on jihadist terrorism whose new book will mesmerize, shock, inform and totally enlighten you on the covert war against Islamist militants fought by the government inside the US as well as around the world. Having worked as both a national security investigative reporter as well as a top level counter terrorism intelligence analyst for the government, Bensman is in a unique position to reveal a fascinating story spanning the globe over almost two decades that will interest all readers.I must say that in today's world of totally politicized media and the poisonous influence of political correctness in corrupting the objective truth about jihadist terrorism, Bensman rises above all others in revealing what is really going on and what has gone on. And even though I have specialized in terrorism for more than 25 years, I have learned more from reading the work of Todd Bensman than any other counter terrorist official or "expert" in the world bar none."
– Steven Emerson, Executive Director of the Investigative Project on Terrorism, author of seven books on Islamic terrorism and the executive producer of two award winning documentaries on jihadist terrorism
"Amidst multiple international crises, most of the media have lost sight of the jihadist threat to America. Todd Bensman is a welcome exception. His investigative reporting on continuing terrorist attempts to infiltrate the United States deserves wide attention from specialists and the general public alike."— Clifford D. May, founder and president, Foundation for Defense of Democracies
"Bensman draws on his many years studying the U.S.-Mexican border to establish the presence of a major but secret national counterterrorism project, then to show the serious neglect that hobbles it, and finally to recommend solutions. He needs urgently to be heeded, lest disaster come via the Rio Grande." —Daniel Pipes, founder and president, The Middle East Forum, thought leader on U.S. foreign policy in the region and author of 16 books on Islam and the Middle East
"Progressives on the cultural and political left harbor a lot of dangerous and seditious ideas about illegal immigration. Chief among them is that lax border enforcement and massive waves of third world migrants are not an invitation to terrorist infiltration. But Todd Bensman's new book, America's Covert Border War, is even more dangerous and seditious because it speaks plain powerful truth about the very real problem of jihadist infiltration, backed up by the kind of deep reporting that will challenge the assumptions of even the most willfully ignorant, glib or smug. The book is a well-grounded warning from a longtime veteran of the War on Terror as well as a bold rebuke to the media's unfortunate culture of denial, avoidance and resistance." —William McGowan, best-selling author of Coloring The News; Gray Lady Down
"Journalist and former counterterrorism intelligence manager Todd Bensman shines a spotlight into a complex issue that few truly understand. Trust me when I say this: Bensman has been in the trenches and behind the scenes to safeguard Texas. He deserves our thanks."—Fred Burton, former Diplomatic Security Special Agent and New York Times bestselling author of Beirut Rules, Chasing Shadows, and Ghost
"Drawing upon his unique experience, both as a counter-terrorism professional within the Texas Department of Public Safety, as well as his many years as an investigative journalist, Bensman utilizes a vast range of primary sources to provide an unmatched, richly detailed account of the vulnerabilities to terrorist infiltration that exist at the United States' southern border. Timely and engaging, this book cuts through the otherwise deeply politicized debate that surrounds this topic to give a clear-eyed, factually-based account of the threat as we know it, the counter-terrorism machinery that was put in place after 9/11 to defeat it, and the worrisome holes in the system that persist to this day. Simply put, it is a must-read for anyone wishing to get to grips with this issue." —Sam Mullins, professor at Daniel K. Inouye Asia Pacific Center for Security Studies and author of Jihadist Infiltration of Migrant Flows to Europe: Perpetrators, Modus Operandi and Policy Implications
"Todd Bensman provides a deeply disturbing national security perspective to failed immigration controls from Panama through Mexico to the southern borders of Mexico to which we were blind. Bensman now examines the threat of lone jihadists and organized groups moving through those countries to the United States. He knows this world from his reporting on the ground in Central America and Mexico and as a government intelligence worker. With this book, we are far less blind." —Dr. Michael Lauderdale, University of Texas at Austin, Clara Pope Willoughby Centennial Professor
---
Reviews
Book Review in The Federalist by Kyle Shideler
During the 2016 election, one of the major issues the media refused to discuss was the extent to which foreign-born nationals might play a role in jihadist terror attacks on U.S. soil. This was during the height of the debate over the admission of Syrian refugees and against the backdrop of the migrant crisis and subsequent terror attacks in Europe. (Indeed, there are signs the recent mass shooting on a grocery store in Colorado may have been an Islamist terror attack – the shooter was a Syrian refugee who came here as a child and was a U.S. citizen.)
But given that a key plank in Donald Trump's platform was the insistence on building "a big, beautiful wall" to keep out potential terrorists, among other threats, the last thing the media wanted to do was admit that terrorism was a potential consequence of a porous border. So the media mercilessly mocked and derided claims that foreign terrorists might seek to cross a largely open border as the fever dreams of xenophobic rubes.
The irony was that America's intelligence and counterterrorism officials were all too aware of the cross-border threat. After 9/11, with bipartisan support, the U.S. government built an expansive covert intelligence system intended to detect and intercept this very real threat. It is worth keeping this backdrop of media silence in mind to contrast against while reading Todd Bensman's America's Covert Border War: The Untold Story of the Nation's Battle to Prevent Jihadist Infiltration.
---
Book Review by Pawel Styrna of the Federation for Immigration Reform
Whenever anyone dares to suggest that foreign terrorists who wish to hurt Americans might be crossing our southwestern border – whether it was President Trump in 2019, or House Republicans more recently in the midst of Joe Biden's migrant crisis – they are met with an almost immediate backlash. The common response is denial, ridicule, or simply downplaying the danger.
However, as Todd Bensman, Senior National Security Fellow at the Center for Immigration Studies, points out in his latest book, America's Covert Border War: The Untold Story of the Nation's Battle to Prevent Jihadist Infiltration, the threat of terrorists penetrating the U.S.-Mexico border is very real. Moreover, the U.S. government has been waging a clandestine struggle against it for two decades. And the author – having been in charge of counterterrorism intelligence for the Texas Department of Public Safety's Intelligence and Counterterrorism Division in its multi-agency fusion center – is a veteran of this covert border war.
"Throughout the 1990s," Bensman says, "national border control policy centered mainly on managing illegal Mexican migration and drug running." The September 11, 2001 terrorist attacks by radical Islamists served as a wake-up call, however. As the U.S. made it harder for terrorists to enter via our airports, it was necessary to ensure that bad actors would not get into our country by other means, such as sneaking in illegally or using asylum fraud.
But why the focus on the southwestern border? As Bensman explains, "in Canada, thousands of complete SIA [Special Interest Alien] strangers, violent jihadists hiding among them, therefore, would not be able to show up entirely unannounced or uninvited for a clandestine trip into Montana (…). By contrast, the overland pathway through a notoriously indifferent Mexico to the US southern border runs through some two-dozen contiguous, equally porous, and indifferent nations in Latin America, each open to just about anyone from any country of national security concern."
Thus, the almost 2,000-mile-long U.S.-Mexico border became a major line of defense as our intelligence and counterterrorism professionals worked to vet individuals from hotbeds of terror and Islamist extremism who showed up at our southwestern frontier. Bensman calls this the "near war." Another part of the covert border war (the "far war") was also waged throughout Latin America as the U.S. attempted to close down smuggling rings and intercept potentially dangerous individuals.
---
Book Review by Rachel Alexander, Editor of The Intellectual Conservative
As published by Townhall Media March 29, 2021
You don't hear much about what's going on behind the scenes to stop terrorists from coming over the border. Certainly, much of it is classified, because it might compromise sources and methods used to intercept plots. But the left wants you to think there isn't much of a threat, it's just hype meant to justify strict border laws that keep out Hispanic illegal immigrants. They ridiculed President Trump for bringing it up, feigning professional outrage. They deny that possible terrorists, identified as "SIAs" or Special Interest Aliens, are crossing the southern border.
Fortunately Todd Bensman, a counterintelligence expert who covered national security as a journalist, has written a book revealing this secret work, America's Covert Border War: The Untold Story of the Nation's Battle to Prevent Jihadist Infiltration. He asks why our political leadership on both sides of the aisle set in place an extensive counterterrorism enterprise on the southern border if there was no threat. Due to heightened security measures taken after 9-11, terrorists have turned to coming in through the U.S.-Mexico border instead of flying.
Bensman discusses how terrorists have been getting into Europe in large numbers, using Europe's overwhelmed asylum systems, which aren't that different from ours. Once given asylum, instead of being grateful, some of the new immigrants begin plotting attacks against their host countries. Due to the EU's lax migration laws, terrorists have been able to quickly move from country to country. Bensman goes over so many terrorist attacks there your eyes glaze over; it is too much to comprehend.
---
Book Review in The Blitz
Inside America's Counter-Jihad Covert Border War – FEB 14, 2021 BY ANDREW HARROD, The Blitz
Contrary to America's Leftists, "that jihadists would infiltrate land borders among bedraggled war refugees" is not an "outrageous fantasy of fringe racists, nativist immigration restrictionists, and conspiracy lunatics." So writes Center for Immigration Studies National Security Fellow Todd Bensman in his revealing new book examining America's Covert Border War: The Untold Story of the Nation's Battle to Prevent Jihadist Infiltration.
Bensman is an experienced observer of his subject. This former Texas journalist became in 2009 a senior intelligence analyst with the Texas Department of Public Safety's Intelligence and Counterterrorism Division. With federal security clearance, he worked firsthand with federal agents in Texas government "fusion center" on border security issues.
---
Book Review: A Look at 'America's Covert Border War
By Leah Barkoukas, online features editor at Townhall.com, March 12, 2021
While former President Trump had a knack for whipping the press into a frenzy no matter what he seemed to say, one issue he touched on in 2018 brought about a tsunami of criticism unlike most others.
What had he dared bring attention to this time? He suggested, based on "very good information," that it's not just Central and South American migrants making their way into the U.S. through the southern border, but that dangerous Islamic terrorists were possibly amid the massive caravans. One tweet about Muslim prayer rugs reportedly being found at the border really sent the press over the edge. The media panned his claims as "unfounded," "baseless," an "old, far-right meme" and "bogus."
But for Todd Bensman, senior national security fellow for the Center for Immigration Studies and Townhall columnist, there was truth to Trump's claim, and he had witnessed it firsthand in the many years he spent as a reporter covering migrant trails and as a senior intelligence analyst for the Texas Department of Public Safety's Intelligence and Counterterrorism Division.
In his new book, "America's Covert Border War: The Untold Story of The Nation's Battle to Prevent Jihadist Infiltration," Bensman delivers an accurate and nonpartisan look at the threat, details what the American counterterrorism effort has done behind the scenes to address it, and how the counterterrorism project can be strengthened as the threat of terrorist infiltration intensifies.
---
Special Events
Thank you True Texas for hosting events in Lubbock and Round Rock, Texas! The Texas True Project
More to come for True Texas. Stay tuned!


---
Thank you South Austin Republican Club (yes there is one!)
March 28! South Austin Republican Club
---
Thank you Robson Ranch Gun Club
The only problem with this November 15 event was that we didn't have two more hours to handle all the questions people had. Great group. Great event.
Thank you Texans for Immigration Reduction and Enforcement (TFIRE), Houston for a great November 16 event in Houston!
---
Thank you Magic Circle Republican Women's Organization, November 15, Houston
---
Thank you Young Conservatives of Texas at the University of Texas Austin, rare birds that you are! Thanks for inviting me to speak October 13, 2021
---
Thank you to The Executive Council- Houston for a fantastic experience and book signing August 24!
Thank you to Dallas Rotary Club book talk and signing event August 25!
Thank You Federated Women of Argyle Texas! Loved the event
Thank you Coronado Club Houston! Fantastic event (food and people) August 4.
---
---
A Great Book Talk and Signing with the Camino Real Republican Women!
---
Book Signing Event Really Flew – Dallas Eagle Forum May 20, 2021 Studio Movie Grill!
---
New Right Network's March Reader's Club Selection for Author Discussion
WATCH AND LISTEN TO THE MARCH 31, 2021 EVENT
---
Panel: Center for a Secure Free Society for America's Covert Border War
WATCH THE FULL MARCH 23, 2021 PANEL DISCUSSION
Watch an excerpt of Bensman discussing his book here
---
Thank you East Valley Republican Women of Palm Springs, California March 19, 2021; My first-ever book signing. Fun as hell.
March 19, 2021
The Texas Public Policy Foundation Panel
WATCH THE FEBRUARY 25, 2021 PANEL HERE
WATCH THE C-SPAN 2 BOOK TV EVENT HERE
Center for Immigration Studies Panel
WATCH THE FULL FEBRUARY 9, 2021 PANEL HERE
WATCH BENSMAN'S 16-MINUTE PRESENTATION
Webinar Center for Security Policy
WATCH THE FEBRUARY 10, 2021 PANEL HERE….AND READ THE STORY HERE
---
Webinar for Homeland Security Today
---
In the News
Author Interview by The Washington Outsider's Irena Tsukerman
---
Author Interview of America's Covert Border War by Rox Burkey
Journalists have a different method for sharing the words. They tend to fact check, verify, and speak from a personal perspective. That is not to say their own frame of reference will not shape the outcome of the story—like all of us they are human. Today though I have the chance to share some time with Todd Bensman. His extensive qualifications include an M.A. in Security Studies from the Naval Postgraduate School, Center for Homeland Defense and Security (2015, Outstanding Thesis designee, an M.A. in Journalism from the University of Missouri School of Journalism, and an undergraduate degree in Journalism from Northern Arizona University. His experience includes on assignment in 25 countries over his career, and these days he gets called to investigate the southern border and tsunami of humans pouring into the United States. I invite you to enjoy this discussion and share with your friends.
Welcome, Todd, please share some of your writing achievements prior to release of your book with my readers and friends.
As a journalist, I was grateful to have collected some national and state of Texas reporting awards and plaudits, to include two National Press Club awards for foreign correspondence. I was also very honored to have been recognized twice by the esteemed Texas Institute of Letters, and foreign reporting award by the Inter-American Press Association, which I was allowed at the time to pick up at the ceremony in Madrid, Spain. Beyond those were many city and state recognitions over the years that I won't bore the reader about.
Todd, by your own admission prior to joining the Center for Immigration your work, post 911, focused on homeland security. How has this impacted your view of our U.S. borders?
I view border security in much the same way as I do private home security. I want people to knock on my front door and announce themselves and give truthful information, rather than sneaking through the back gate in the shadows. I expect to defend my home – with defensive and, if necessary, forceful offensive measures – against intruding strangers since they may harbor nefarious intentions as far as I know. I think transparency (who are you, really?), legality, and defenses with teeth are a high ideal in border security, the same as with private home security. I come by these ideas probably for having worked in law enforcement intelligence for many years, around lots of cops, and with the assumption that threats always lurk and preparation to meet them is necessary.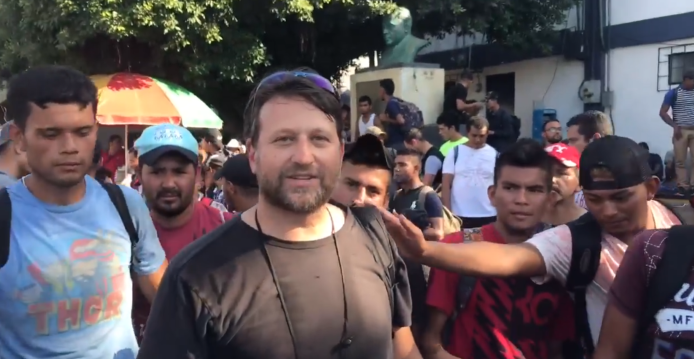 Todd, I know you have visited 25 countries and I suspect it wasn't during peace times. How do these conditions impact an investigative journalist?
Early in my career, I did work as a freelance combat correspondent. I covered Gulf War I, some of the post-Soviet conflicts, and then a year of warfare in Bosnia and Croatia before peace broke out. I've spent lots of time in difficult non-combat zones as well. But truth be told, I don't really see combat journalism work as much connected with the higher order of investigative journalism work. They're just too different. War reporting is kind of base, raw and mainly descriptive; investigative journalism is very much more cerebral, analytical, and deductive.
Your goal with writing seems filled with a desire to bring awareness to various public and private groups. Have you succeeded in that intention?
I like to think so. I often do feel "read." Often, I hear terms that I know I coined! Media talking heads come to me all the time asking me to elaborate on my published pieces. I know lawmakers are reading me. I often feel like my material is very … consumed. And for this I am ever thankful, because after all, we just want to be read and heard, correct?
Yes, Todd, I could not agree more. What do you think has been the most unnerving location and how did that situation influence your reporting?
---
The Live Drop Podcast: A Discussion of America's Covert Border War Book
---
The Indie-Beacon Show's Rox Burkey Interview of Bensman About America's Covert Border War
---
Former CIA Officer John Kirkiakou Interviews Bensman on Sputnik Radio's The Back Story
---
SWAT Brothers In-Studio Podcast Special on America's Covert Border War
---
The El Conservador Show special on America's Covert Border War
---
The Hill: Reporting about America's Covert Border War
REARD NOLAN RAPPAPORT'S MAY 18, 2021 OPINION COLUMN HERE
---
On Ruben (Navarrette) in the Center
LISTEN TO THE FULL MAY 14, 2021 PODCAST HERE
---
On Pastor's Point of View
---
On the Glenn Beck Show
WATCH THE APRIL 2 BOOK SEGMENT HERE
READ EXCERPTS HERE. WATCH BENSMAN'S MARCH 24, 2021 INTERVIEW WITH BECK HERE
---
On The Epoch Times' The Nation Speaks with Cindy Drukins
WATCH THE APRIL 1, 2021 SEGMENT HERE
---
On The Jim Bohannon Show Taking Calls for 40 Minutes
Listen to the March 16, 2021 40-minute call-in show:
On Newsmax's Rob Schmitt Tonight Show Discussing America's Covert Border War
WATCH THE MARCH 5, 2021 SHOW HERE
---
Four-Segment Series on America's Covert Border War, Secure Freedom Radio with Frank Gaffney
March 1, 2021 LISTEN TO ANY OR ALL FOUR SEGMENTS HERE
On the Nick Reed Show, KSGF Springfield, Missouri
February 25, 2021
---
The National Pulse Podcast with Raheem Kassem
In the War Room with Steve Bannon
WATCH THE FEBRUARY 19, 2021 SHOW HERE
In the War Room (Again) with Steve Bannon
WATCH BENSMAN IN THE FEBRUARY 17, 2021 WAR ROOM HERE
Newsmax National Report
WATCH THE FEBRUARY 14, 2021 NEWSMAX SEGMENT HERE
Slightly Sophisticated Podcast
LISTEN TO THE FEBRUARY 10, 2021 SHOW HERE
Robust Discussion of Book on Amarillo's KXDJ
Great Discussion on Book, Conservative Daily
The Debbie Aldrich Show Featuring America's Covert Border War
Sirius XM's David Webb Radio and Podcast Discussing America's Covert Border War
Two-Hour In-Depth Interview for Homeland Security Off The Record about Book
January 30, 2021
Quoted at Length in Powerline Blog
February 9, 2021
BOOK: Terrorist Border Crossings Are Real
On the Daily Caller Podcast with Samantha Renck Discussing America's Covert Border War
Discussing America's Covert Border War with Secure Freedom's Secure Radio
On the popular Liquid Lunch Podcast
December 22, 2020
On The Catholic Current Radio national broadcast with Fthr. Robert McTigue
August 28, 2020
On with Newsmax TV's The Chris Salcedo Show discussing the border and America's Covert Border War
August 18, 2020
QUOTES FROM BENSMAN ABOUT HIS BOOK
Radio interview August 28, 2020:
"This goes to probably one of the more contentious notions about border security, especially on the southern border, which is this idea that Islamic jihadists could come over that border and penetrate into the United States interior and conduct attacks or do support operations or intelligence. And every time that notion is floated, it creates a very contentious and heated national debate where people on the political right would say it's a problem that we're ignoring and people on the political left would say, 'you're lying. None of that's true… It's fear-mongering.' My book is an attempt to just resolve once and for all what that problem actually is. What is the neutral truth of that threat vector about the border? Along with drug trafficking and illegal immigration and sex trafficking and the rest of it … this problem draws this great contention because it's so powerful politically. If you can get the truth on your side, that terrorists can and have crossed that border, you can shut the border down on the strength of that alone. But if you can deny it, or muddle it, then you can keep the border less restricted and immigration less restricted. So I thought it was finally time to write the book addressing it."
"What my book does is takes the aggregate of my experience working as an intelligence analyst and manager for the Texas Department of Public Safety for nine years, working on that issue, and as a journalist before I became an intelligence person… provides an objective truth about what's happening down there. I thought that what I would focus on was the fact that the United States, for 13 or 14 years, has operated counterterrorism programs, very specific programs, in the dark – covert programs – on the border and throughout Latin America to deal with the possibility of jihadist attack through the border. And the fact that there is a counterterrorism project, an enterprise, down there should tell you that homeland security planners, strategists and political leaders have seen intelligence that the rest of us haven't seen. They know things that, obviously, the rest of us don't know because a lot of this is sort of classified, national security-realm stuff. So I pierce that in the book and describe what those men and women are doing, why they're doing it, how they're doing it, and what they've found down there. And I'll just tell you that what they have found down there are jihadists coming through Latin America and reaching the U.S. southern border. They have found that."