America's Covert Border War
The Untold Story of the Nation's Battle to Prevent Jihadist Infiltration
NOW AVAILABILE from Post Hill Press/Bombardier Books and distributed by Simon & Schuster…Available on Kindle and Nook
FOR BULK PURCHASE DISCOUNTS, LINK HERE; OTHERWISE:
Order the Book Below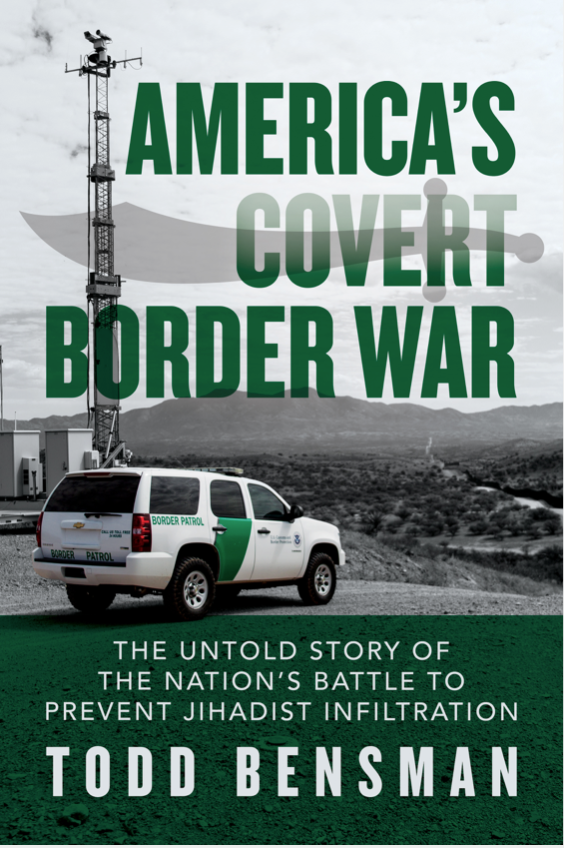 About the Book
The book by journalist Todd Bensman, AMERICA'S COVERT BORDER WAR, is now available on Amazon, Barnes & Noble, and other links below. This 13-year work of journalism finally settles, for the first time, one of the nation's most contentious and politically powerful ideas about the southern border: that Islamic jihadists might infiltrate over it and commit terrorist acts. Perhaps no other idea about the American border has sown more conflict, claims, counter-claims, rebuttals and false narratives on all sides as this one. This book provides a first comprehensive neutral baseline of truth about the threat, goring oxen on both sides of the partisan divide. It reveals, for the first time, that after 9/11 America mounted secret (ongoing) counterterrorism campaigns at the southern border and far beyond – and that they have worked surprisingly well to date, preventing attack on the homeland. This is the untold story of those hidden American border programs, how they succeeded, why they're faltering at a time when the risk of border infiltration attack is elevated, and what should be done to repair the enterprise before Americans finally suffer the consequences.
Americans concerned by unchecked global migration, porous borders, and national security will feel surprised to learn that thousands of migrants from the Islamic world breach the U.S.-Mexican border each year, despite media insistence that these long-haul travelers are imagined, as are the hardened jihadists caught among them each year. This is an intelligence world insider's story of the ambitious and intrigue-laden covert American counterterrorism programs built after 9/11 from the U.S. border to the tip of South America. They were created to protect Americans from a supposedly notional infiltration threat, the same that has been killing and wounding thousands in Europe in recent years. A surprising conclusion: the American effort has prevented attack on the homeland so far, shielding an unappreciative and unknowing nation from the migrant-jihadist bloodshed Europe has suffered since organized terrorist border infiltrations there began in 2015 and continue today.
But how much longer can these programs stave off Europe's fate without the public recognition that they exist, and the care and attention they deserve?
---
ABOUT THE AUTHOR
Todd Bensman is an award-winning newspaper reporter and magazine writer who transitioned to a career as a national security intelligence professional for the Texas Department of Public Safety and then returned to writing and publishing. He currently serves as the Texas-based Senior National Security Fellow for the Center for Immigration Studies (CIS), a Washington, D.C. policy institute for which he writes, lectures, and grants media interviews about the nexus between immigration and national security. He has testified before Congress as an expert witness and regularly appears on radio, television, podcast and online news outlets for his national security and border security expertise. Separately, he reports on international and domestic terrorism matters for major online news sites and teaches terrorism, journalism, and intelligence analysis as a university adjunct lecturer.
Bensman was born in Houston, Texas and raised in Phoenix, Arizona before moving to Alaska to work as reporter and then, after traveling long roads reporting in dozens of countries, settled in his native Texas and began working both sides of his state's long border with Mexico. He is the recipient of two National Press Club awards for his foreign reporting, an Inter-American Press Association Award, and two Texas Institute of Letters awards among many others. In line with his hybridized journalism-intelligence career, Bensman holds a master's degree in journalism from the University of Missouri to go with his master's degree in security studies from the Naval Postgraduate School.
QUOTES FROM BENSMAN ABOUT HIS BOOK
Radio interview August 28, 2020:
"This goes to probably one of the more contentious notions about border security, especially on the southern border, which is this idea that Islamic jihadists could come over that border and penetrate into the United States interior and conduct attacks or do support operations or intelligence. And every time that notion is floated, it creates a very contentious and heated national debate where people on the political right would say it's a problem that we're ignoring and people on the political left would say, 'you're lying. None of that's true… It's fear-mongering.' My book is an attempt to just resolve once and for all what that problem actually is. What is the neutral truth of that threat vector about the border? Along with drug trafficking and illegal immigration and sex trafficking and the rest of it … this problem draws this great contention because it's so powerful politically. If you can get the truth on your side, that terrorists can and have crossed that border, you can shut the border down on the strength of that alone. But if you can deny it, or muddle it, then you can keep the border less restricted and immigration less restricted. So I thought it was finally time to write the book addressing it."
"What my book does is takes the aggregate of my experience working as an intelligence analyst and manager for the Texas Department of Public Safety for nine years, working on that issue, and as a journalist before I became an intelligence person… provides an objective truth about what's happening down there. I thought that what I would focus on was the fact that the United States, for 13 or 14 years, has operated counterterrorism programs, very specific programs, in the dark – covert programs – on the border and throughout Latin America to deal with the possibility of jihadist attack through the border. And the fact that there is a counterterrorism project, an enterprise, down there should tell you that homeland security planners, strategists and political leaders have seen intelligence that the rest of us haven't seen. They know things that, obviously, the rest of us don't know because a lot of this is sort of classified, national security-realm stuff. So I pierce that in the book and describe what those men and women are doing, why they're doing it, how they're doing it, and what they've found down there. And I'll just tell you that what they have found down there are jihadists coming through Latin America and reaching the U.S. southern border. They have found that."
---
Praise for America's Covert Border War
"Bensman thus provides revealing insight into a little examined, yet vital topic. As he shows, America's southern border is one vulnerable point of entry for jihadists into the United States, which only often unheralded vigilance has kept closed. Maintaining this vigilance will require wider public understanding of the border security operations Bensman has experienced firsthand."- Andrew Harrod, author and writer for Jihad Watch
"Todd Bensman is one of the last remaining authentic counter terrorism experts and investigators on jihadist terrorism whose new book will mesmerize, shock, inform and totally enlighten you on the covert war against Islamist militants fought by the government inside the US as well as around the world. Having worked as both a national security investigative reporter as well as a top level counter terrorism intelligence analyst for the government, Bensman is in a unique position to reveal a fascinating story spanning the globe over almost two decades that will interest all readers.I must say that in today's world of totally politicized media and the poisonous influence of political correctness in corrupting the objective truth about jihadist terrorism, Bensman rises above all others in revealing what is really going on and what has gone on. And even though I have specialized in terrorism for more than 25 years, I have learned more from reading the work of Todd Bensman than any other counter terrorist official or "expert" in the world bar none."
– Steven Emerson, Executive Director of the Investigative Project on Terrorism, author of seven books on Islamic terrorism and the executive producer of two award winning documentaries on jihadist terrorism
"Amidst multiple international crises, most of the media have lost sight of the jihadist threat to America. Todd Bensman is a welcome exception. His investigative reporting on continuing terrorist attempts to infiltrate the United States deserves wide attention from specialists and the general public alike."— Clifford D. May, founder and president, Foundation for Defense of Democracies
"Bensman draws on his many years studying the U.S.-Mexican border to establish the presence of a major but secret national counterterrorism project, then to show the serious neglect that hobbles it, and finally to recommend solutions. He needs urgently to be heeded, lest disaster come via the Rio Grande." —Daniel Pipes, founder and president, The Middle East Forum, thought leader on U.S. foreign policy in the region and author of 16 books on Islam and the Middle East
"Progressives on the cultural and political left harbor a lot of dangerous and seditious ideas about illegal immigration. Chief among them is that lax border enforcement and massive waves of third world migrants are not an invitation to terrorist infiltration. But Todd Bensman's new book, America's Covert Border War, is even more dangerous and seditious because it speaks plain powerful truth about the very real problem of jihadist infiltration, backed up by the kind of deep reporting that will challenge the assumptions of even the most willfully ignorant, glib or smug. The book is a well-grounded warning from a longtime veteran of the War on Terror as well as a bold rebuke to the media's unfortunate culture of denial, avoidance and resistance." —William McGowan, best-selling author of Coloring The News; Gray Lady Down
"Journalist and former counterterrorism intelligence manager Todd Bensman shines a spotlight into a complex issue that few truly understand. Trust me when I say this: Bensman has been in the trenches and behind the scenes to safeguard Texas. He deserves our thanks."—Fred Burton, former Diplomatic Security Special Agent and New York Times bestselling author of Beirut Rules, Chasing Shadows, and Ghost
"Drawing upon his unique experience, both as a counter-terrorism professional within the Texas Department of Public Safety, as well as his many years as an investigative journalist, Bensman utilizes a vast range of primary sources to provide an unmatched, richly detailed account of the vulnerabilities to terrorist infiltration that exist at the United States' southern border. Timely and engaging, this book cuts through the otherwise deeply politicized debate that surrounds this topic to give a clear-eyed, factually-based account of the threat as we know it, the counter-terrorism machinery that was put in place after 9/11 to defeat it, and the worrisome holes in the system that persist to this day. Simply put, it is a must-read for anyone wishing to get to grips with this issue." —Sam Mullins, professor at Daniel K. Inouye Asia Pacific Center for Security Studies and author of Jihadist Infiltration of Migrant Flows to Europe: Perpetrators, Modus Operandi and Policy Implications
"Todd Bensman provides a deeply disturbing national security perspective to failed immigration controls from Panama through Mexico to the southern borders of Mexico to which we were blind. Bensman now examines the threat of lone jihadists and organized groups moving through those countries to the United States. He knows this world from his reporting on the ground in Central America and Mexico and as a government intelligence worker. With this book, we are far less blind." —Dr. Michael Lauderdale, University of Texas at Austin, Clara Pope Willoughby Centennial Professor
---
Reviews

Inside America's Counter-Jihad Covert Border War – FEB 14, 2021 BY ANDREW HARROD
Contrary to America's Leftists, "that jihadists would infiltrate land borders among bedraggled war refugees" is not an "outrageous fantasy of fringe racists, nativist immigration restrictionists, and conspiracy lunatics." So writes Center for Immigration Studies National Security Fellow Todd Bensman in his revealing new book examining America's Covert Border War: The Untold Story of the Nation's Battle to Prevent Jihadist Infiltration.
Bensman is an experienced observer of his subject. This former Texas journalist became in 2009 a senior intelligence analyst with the Texas Department of Public Safety's Intelligence and Counterterrorism Division. With federal security clearance, he worked firsthand with federal agents in Texas government "fusion center" on border security issues.
---
Special Events
Book talk and signing event near Palm Springs, California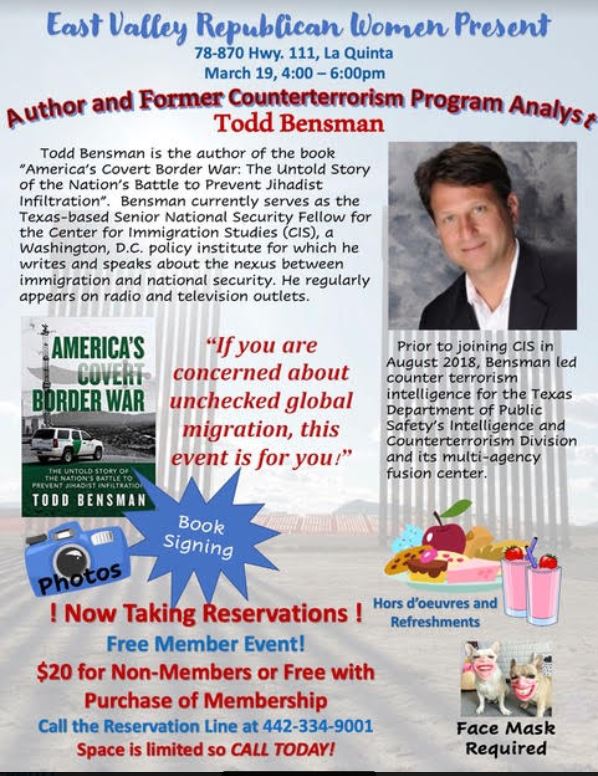 March 19, 2021
The Texas Public Policy Foundation Panel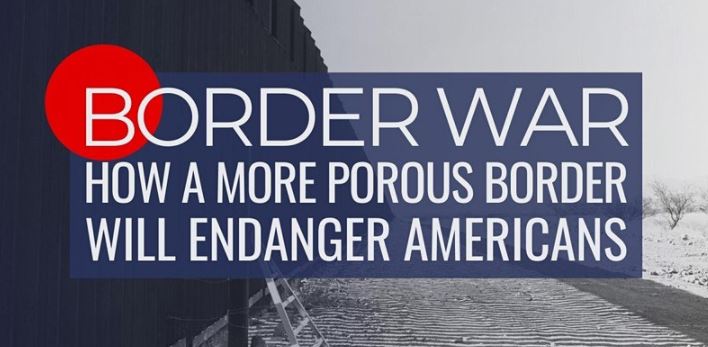 February 25, 2021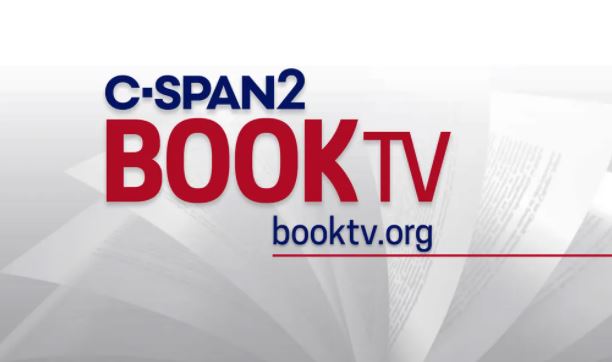 Airing Details:
Feb 21, 2021 | 6:35pm EST | C-SPAN 2
Feb 27, 2021 | 1:00pm EST | C-SPAN 2
Feb 28, 2021 | 8:00am EST | C-SPAN 2
LOG ON TO C-SPAN 2 Book TV HERE
Center for Immigration Studies Panel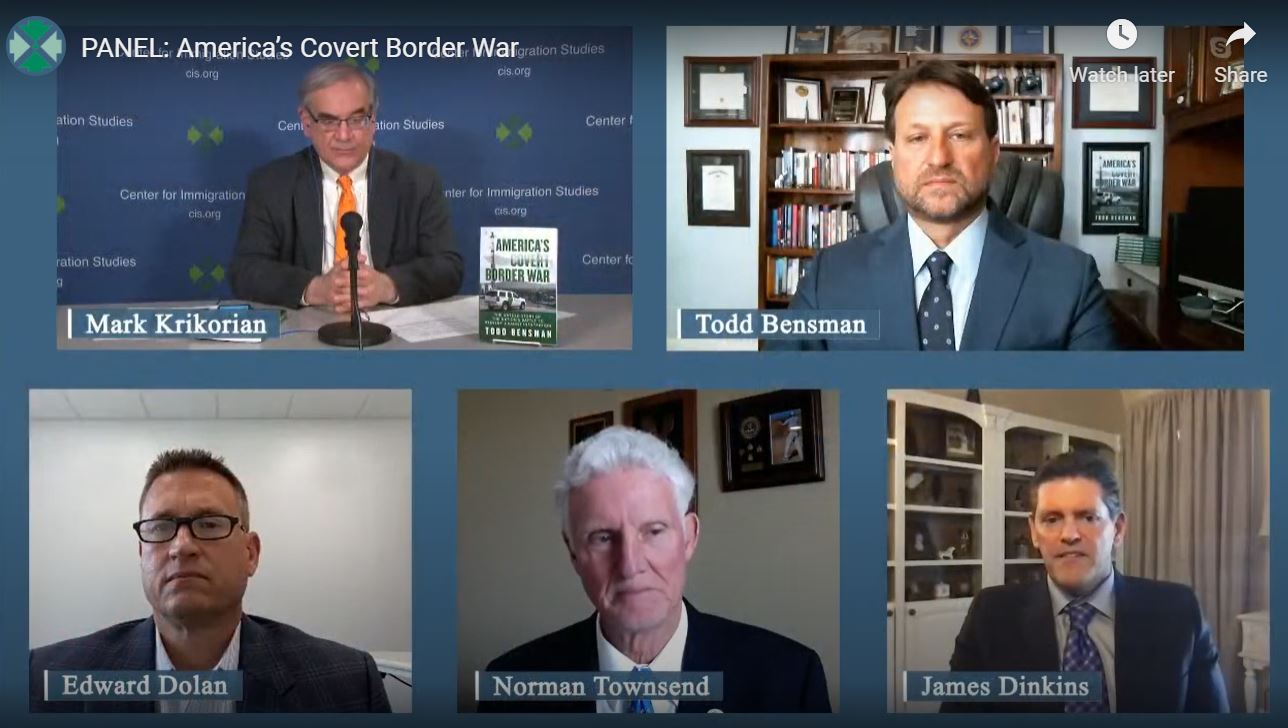 February 9, 2021
WATCH BENSMAN'S 16-MINUTE PRESENTATION
Webinar Center for Security Policy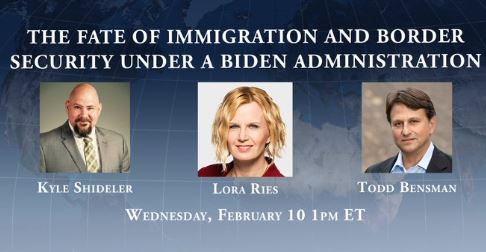 February 10, 2021
---
In the News
Four-Segment Series on America's Covert Border War, Secure Freedom Radio with Frank Gaffney
March 1, 2021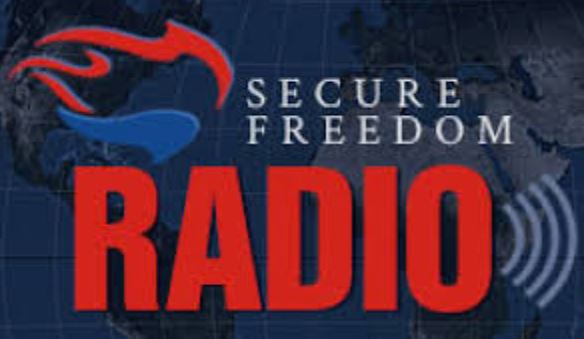 Go to the site and listen to any or all of the four segments
On the Nick Reed Show, KSGF Springfield, Missouri
February 25, 2021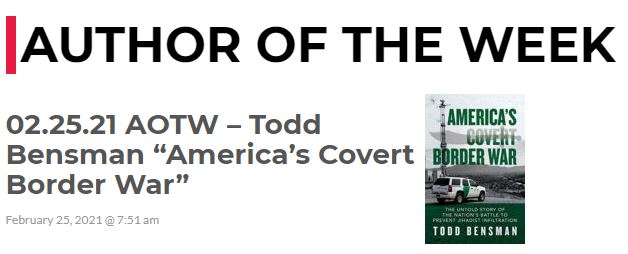 In the War Room with Steve Bannon
February 19, 2021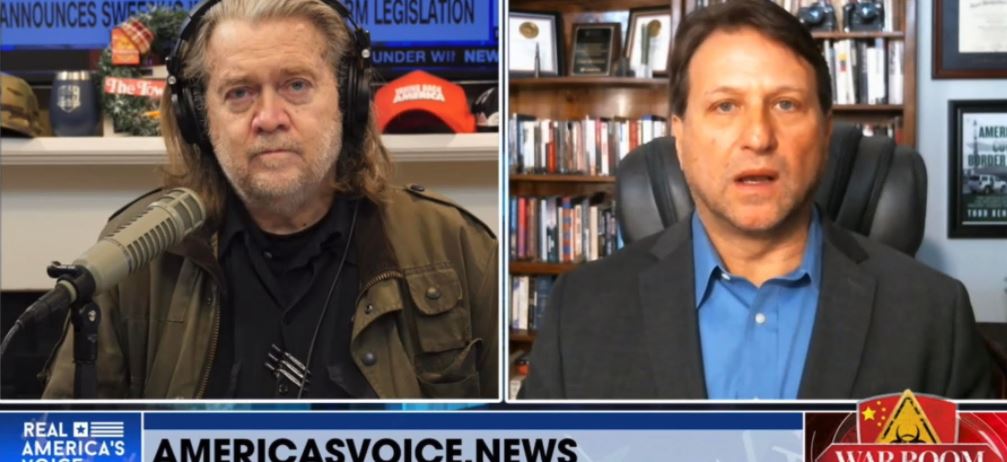 In the War Room (Again) with Steve Bannon
February 17, 2021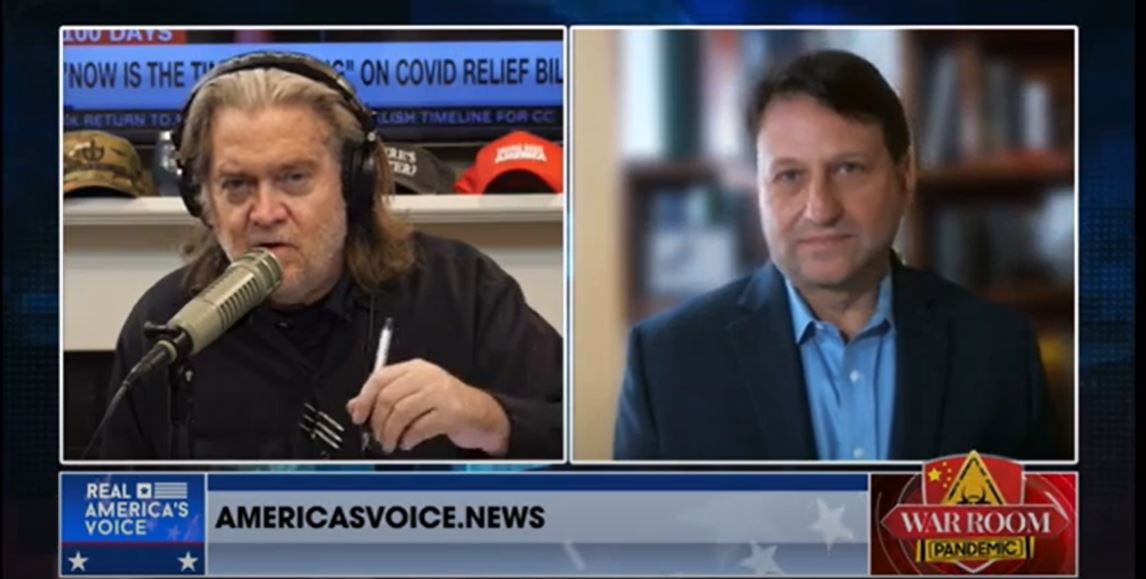 WATCH BENSMAN IN THE WAR ROOM HERE
Newsmax National Report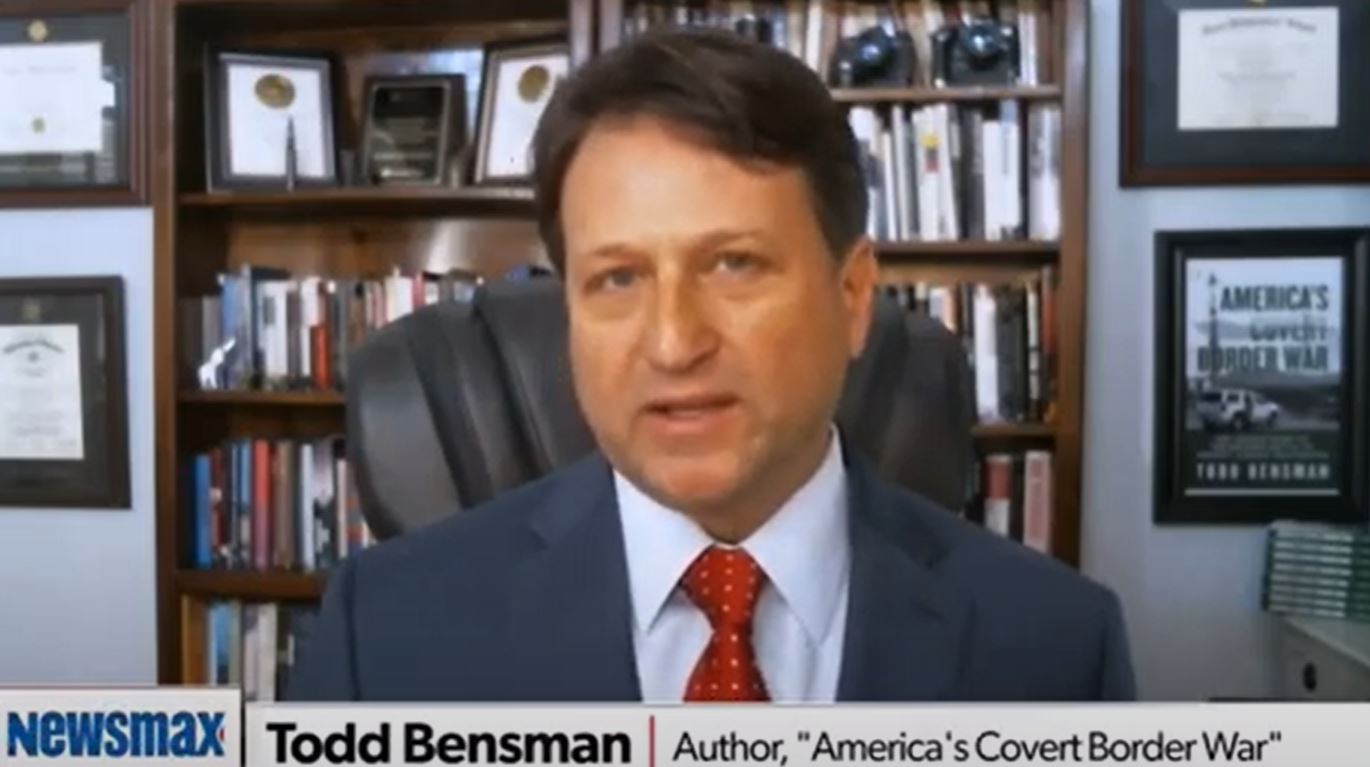 WATCH THE FEBRUARY 14, 2021 NEWSMAX SEGMENT HERE
Slightly Sophisticated Podcast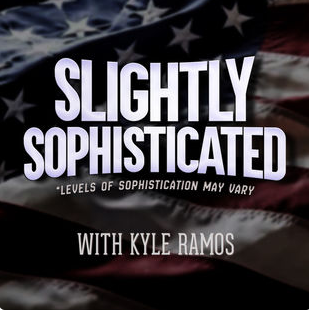 February 10, 2021 Show LISTEN HERE
Robust Discussion of Book on Amarillo's KXDJ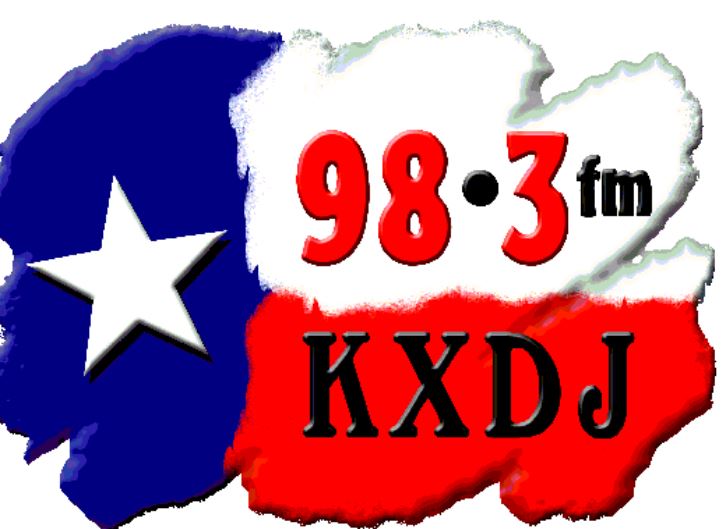 Great Discussion on Book, Conservative Daily
The Debbie Aldrich Show Featuring America's Covert Border War
Sirius XM's David Webb Radio and Podcast Discussing America's Covert Border War
Two-Hour In-Depth Interview for Homeland Security Off The Record about Book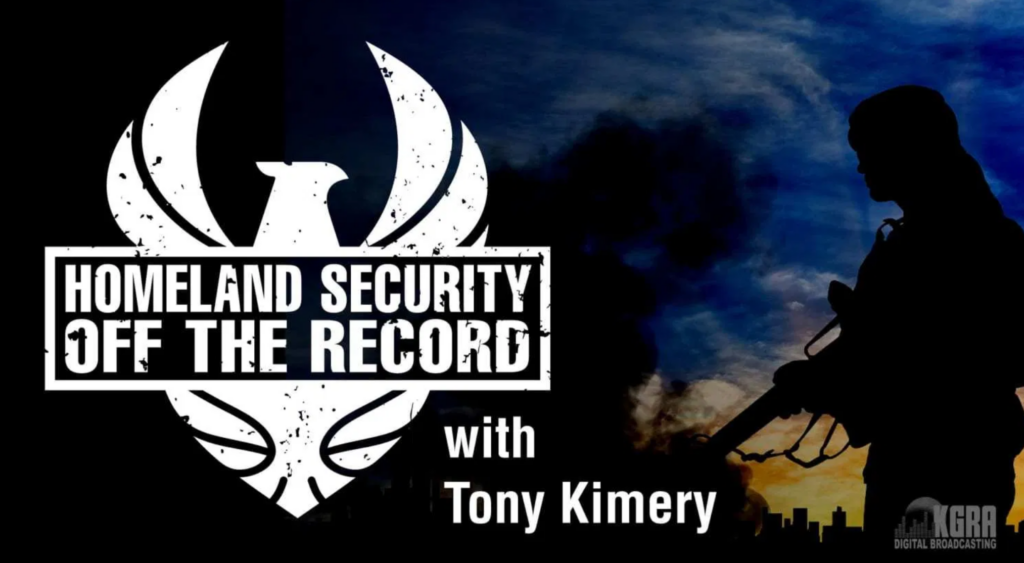 January 30, 2021
Quoted at Length in Powerline Blog

February 9, 2021
BOOK: Terrorist Border Crossings Are Real

On the Daily Caller Podcast with Samantha Renck Discussing America's Covert Border War
Discussing America's Covert Border War with Secure Freedom's Secure Radio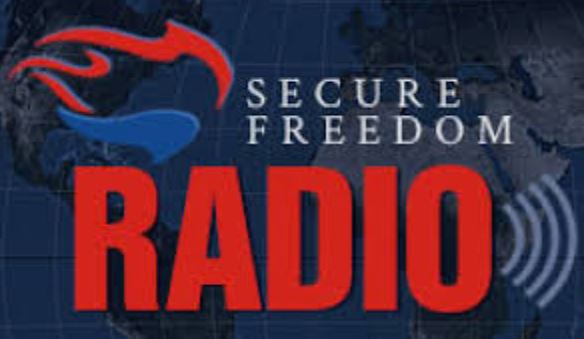 On the popular Liquid Lunch Podcast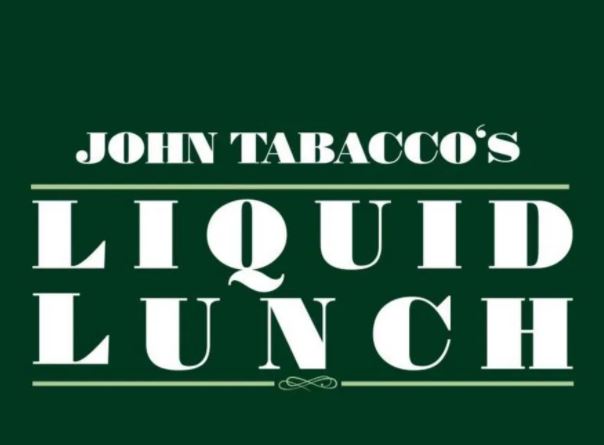 December 22, 2020
On The Catholic Current Radio national broadcast with Fthr. Robert McTigue

August 28, 2020
On with Newsmax TV's The Chris Salcedo Show discussing the border and America's Covert Border War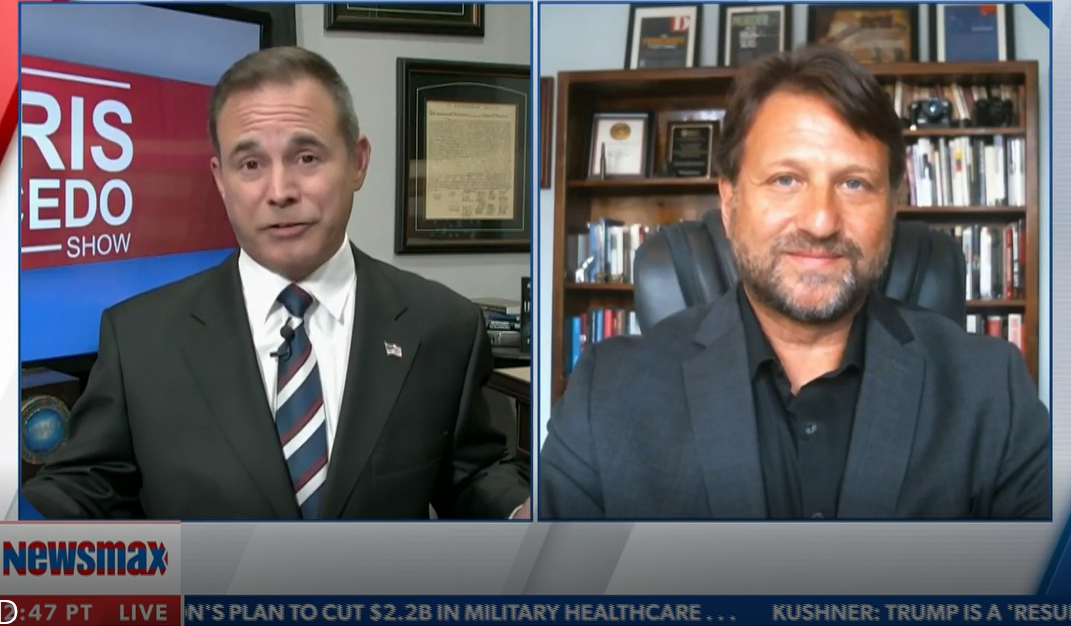 August 18, 2020