Angry about the coming migration tsunami, Lone Star State is slowing truck traffic from Mexico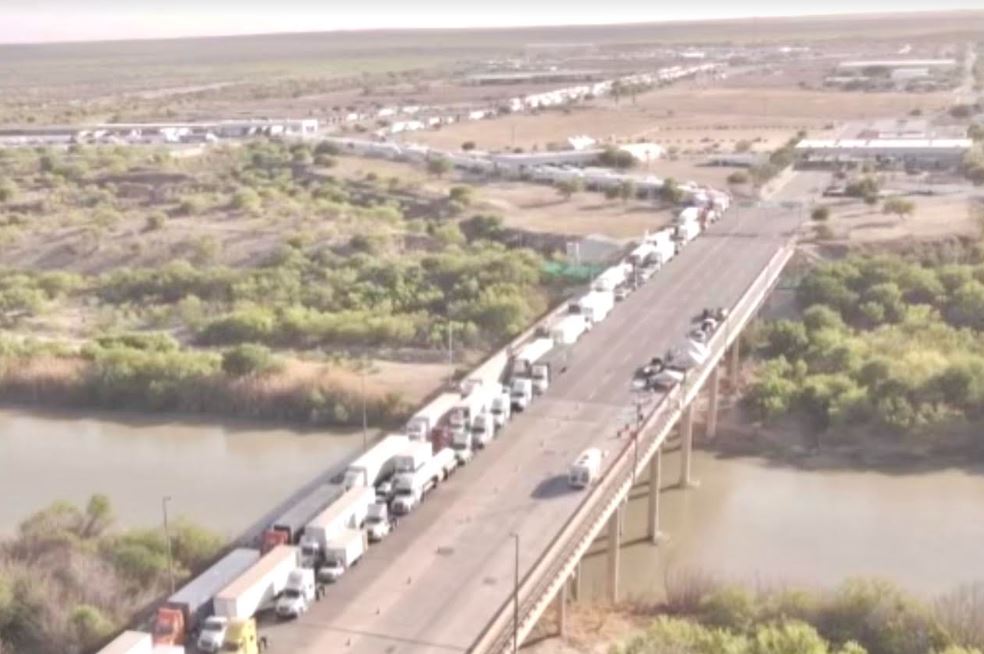 AUSTIN, Texas – National media went wild over Texas Gov. Greg Abbott's April 6 press briefing vow that he would bus illegal immigrants to Washington D.C. But they overlooked an Abbott plan I figured in a column would matter much more: "enhanced safety inspections" of commercial trucking coming off the international bridges from Mexico.
While cameras followed the bus-em-to-DC story, the governor's Texas Department of Public Safety was wreaking major trade havoc at some of America's busiest commercial ports of entry, backlogging trucks into long snaking lines into the Mexican horizon. Bright and early on Thursday April 7, small groups of Texas Department of Public Safety commercial vehicle inspectors started slow and methodical inspections of trucks coming off the Pharr-Reynosa international bridge. The operation immediately jammed up trucks for more miles into Mexico than web and drone cameras could see – and probably will again all this coming week.
By Friday morning, April 8, Texas DPS inspectors all but halted international trade at America's busiest border truck crossing, the World Trade International Bridge 4 to Laredo. Trucks back up so far that one observer friend of mine who flew a drone high overhead (see photo below) said the end of the line could not be seen, not for "miles and miles and miles." The same scene played out at one of America's other busiest land ports, the international bridge connecting Ciudad Juarez to El Paso. Truck lines carrying Mexico's economic lifeblood – and not a little of Texan lifeblood too – backed up far into Juarez.


Although no American media have picked up on this story as of today, they won't be able to ignore what's happening if this game of Texas Hold-Em lasts much longer. Texas is making a major international scene that, if the trade slowdowns continue for any significant amount of time, sooner or later will bring the presidents of Mexico and the United States to the table.
What's the real Texas game here?
Gov. Abbott held the press briefing to announce Texas preparatory responses to the human tsunami of up to 18,000 illegal immigrants a day expected after May 23, when Biden lifts the Title 42 pandemic-related order that had Border Patrol rapidly expelling migrants back to Mexico without hearings. In addition to the bus-them-to-Washington idea, the governor pointedly noted that his "enhanced safety inspections" would "dramatically slow" the truck flow coming off those bridges "to help ensure that Texans are not endangered by unsafe vehicles and their unsafe drivers." And hopefully to interdict some drugs.
But he didn't say the obvious, which is that these operations would severely impeded U.S.-Mexico trade. In my opinion, Texas officials cannot and will not say that's what they intended, to purposefully inflict economic pain to force the Biden administration and/or Mexico to pay attention to Texas concerns about the coming migrant tidal wave… to dam it up, clear it out, whatever. Is this a fix-it-or-suffer economic pain strategy in the vein of Donald Trump?
If it is, the governor may well be on to something. During the Trump years, Mexico responded dutifully and with impact when that president threated progressive trade tariffs on all Mexican products shipped through the ports of entry. Mexico is by far the top exporter through Texas, shipping $88.5 billion worth of goods through these land ports in 2020, supporting 910,000 export-supported manufacturing jobs and 29,645 businesses that go on to sell Mexican products overseas, according to Michigan State University's Global Edge trade statistics website.

Taken from a public web camera facing south at the Pharr international bridge Thursday, April 7, caused by several Texas State Troopers conducting vehicle safety inspections.
But if Abbott hopes his Texas Hold-Em game forces Washington and Mexico City to step up, he is walking a tightrope over an alligator pond. Within hours of the bridge backups, Texas companies began howling about the economic pain and trouble this was causing them. Also, Twitter came alive over the weekend with critics noting that Texas' trade interference will aggravate already strained global supply chains and inflationary pressures of the already sharply rising cost of goods.
Dante L. Galeazzi, President of the Texas International Produce Association, dashed off a letter to the governor April 8 (see below) complaining that the safety inspection operations at the Pharr international bridge from Reynosa had warehouse staff sitting idle with no trucks to unload, buyers in other parts of the country missing their deliveries, and U.S. trucking companies losing money "as they sit around for days with no loads to haul."
"This is destroying our business and the reputation of Texas," Galeazzi wrote. "I foresee companies making plans to move their business to New Mexico and Arizona."
It remains to be seen whether Abbott will relent before he forces bigger players to the table, if that's the game. One state government official with knowledge of the situation said the operations will go on next week and be couched as a public safety matter for Texas, nothing more.
But at some point, President Biden and Mexican President Andres Manuel Lopez Obrador will have no choice but to react to Texas.
From there, the Texas Hold-Em game like this puts all of us into speculation land because that game has never been played before.
One obvious option for the Biden administration would be to file a federal lawsuit seeking an injunction against the Texas operation along the lines that it harms national security by slowing critical trade that delivers, say, oil or military vehicle parts and also unlawfully usurps executive branch authority over international diplomacy.
But what if litigation never comes, or fails, and Abbott simply refuses to halt the safety inspection operation no matter how much pain it causes Texas business? Maybe Texas companies and voters frustrated and fed up with the mass migration crisis might be willing to swallow a bitter pill for a while, for a just cause.
An obvious option then might be that Biden strong-arms a willing Lopez Obrador into mounting major deportation roundups along his own northern and southern borders, just as Mexico did from 2019 through to the end of Trump's administration.
With plenty of economic and political pain to go around, who is going to cry uncle?