A tale of open government corruption, impressive criminal organization, and irresistible profit from American policy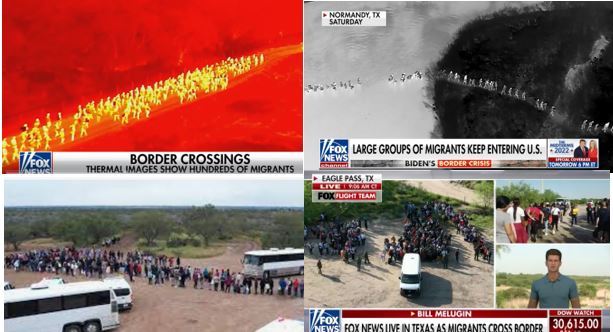 By Todd Bensman as published by the Center for Immigration Studies
EL MORAL, Mexico – Just across the Rio Grande from this tiny farming village is where Fox News drones shot the video footage that provided America with perhaps the most iconic vision of the southern border's two-year-long mass migration crisis: groups of large as 2,500 calmly appeared on the Texas side near Eagle Pass to turn themselves in for quick U.S. Border Patrol admittance.
The flying cameras of Fox News shined a brilliant light on these arriving groups, stunned much of the public, spurred Republican lawmakers to voice outrage, and may well have contributed to President Joe Biden's January decision to finally visit the border.
But the Mexican side of the story here in El Moral remained dark, though it probably stands as by far the more disturbing half of the story.
The Center for Immigration Studies recently visited the villages and roadways of the region across from where the infamous drone footage was shot, ground zero of it here in the tiny rural village of El Moral and also in nearby El Centinela, off Mexico Highway 2 along the Rio Grande and some 20-30 miles north of Piedras Negras, the Mexican city adjoining Eagle Pass. These are two of the main villages, which hug the Rio Grande, where most of the huge crossings were staged.
It turns out that Coahuila state police ran all of this smuggling and, to cash in on irresistibly large profits to be made, in mid-2021 created a sophisticated criminal conveyor belt system of mini-van caravan transportation and stash housing in abandoned factories that could only have operated in the open at such scales because the government was doing it all.
This and the details of the operation comes via corroborating CIS interviews with an active-duty Mexican immigration officer stationed in Piedras Negras, residents of El Moral, some Mexican media reporting, and a person with direct access to an involved smuggler.
"All those big masses of people were crossing last year [2022] because everybody, all the migrants, saw and watched that Biden was doing nothing about that and was letting them all inside America," said this person, who did not want to be identified for obvious security reasons. "All levels of the government managed it. It was a very organized. It was very sophisticated. They had a lot of money off this traffic."
When police become crooks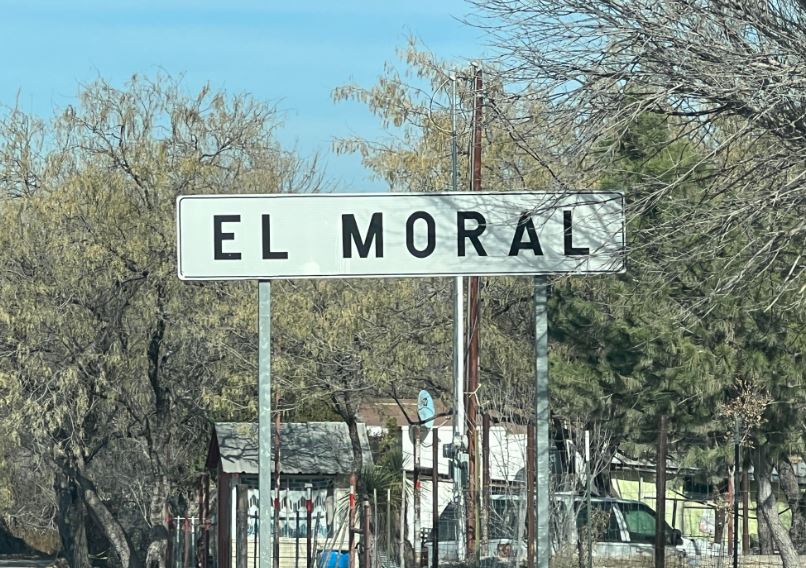 The individual said the state police felt compelled to organize this operation in mid-to-late 2021 to capture irresistible profits that American policies made possible by enticing more people than ever before to cross through the region. For perspective, Del Rio Sector Border Patrol agents apprehended 40,342 in fiscal year 2020. In FY2022, Border Patrol processed 480,931. In just October and November, Border Patrol processed 90, 524.
The police operation has charged every migrant $400 for just the final crossing, the individual said, meaning that any group of 2,000 could fetch $800,000 in a night, which helps explain the large group sizes.
A federal Mexican immigration officer, in uniform, corroborated the assertion that Coahuila state police substantially ran the operation when migrant traffic began its unprecedented surge. In explaining why federal immigration officers never tried to intervene, the officer pointed out what would happen if they did. In Mexico, federal immigration officers are unarmed.
"There have been times when three or four vehicles arrived, and I have been taken out of my vehicle with guns pointed at me and asked what am I doing here. I prefer to keep my distance. We are recommended a lot of discretion because that's organized crime."
Federal police and soldiers, meanwhile, "will tell you, 'I'm not immigration. I didn't see any immigrants. It's not my problem.'"
The immigration officer who CIS interviewed put all of this on the state police and its highest commanders, tracking with consistent Mexican media reporting in recent years (more on this shortly).
"What has caught my attention is that there are commanders from the police that have tremendous cars, brand new trucks, and their salary is not enough. If you drive by Allende, you'll see them driving their brand new Ford trucks and you're like, 'What the fuck"?
Here's how it all worked:
Caravans of mini-vans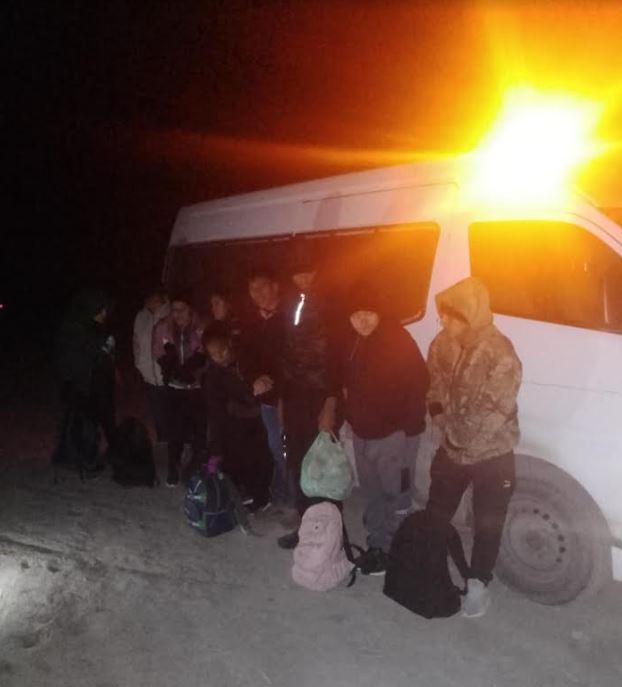 In part, state police associates would sell travel packages to travelers arriving by bus in Coahilla's sprawling industrial city of Monterrey, a major immigration hub where Texas-bound immigrants often coalesce at the station. The deals include transportation in rented mini-vans the four hours to Piedras Negras.
The Mexican immigration officer said those fished from Monterrey might have to pay up to $10,000. But many other migrants find their own transportation to Piedras Negras and enter the organized pipeline after hearing of it by word of mouth.
Mexican government photo of one of the mini-vans provided to CIS
In the vicinity around Piedras Negras, the police smugglers would fill abandoned factories and local houses with migrants during the day, then between the hours of 2 and 3 a.m., police would fill the rented minivans and form them into long snaking caravans that would drive through El Moral, a collection of several dozen homes on small acreages they can farm with dirt roads, several of which lead to the river a mile or so north past the edge of town.
One El Moral resident said the caravans roared through the village on the dirt road by that resident's house in the early morning hours of almost every day, sometimes 50 mini-vans at once.
The armed officers, almost always dressed as civilians, would stage these many hundreds or thousands of migrants on the river bank and direct them to wade over to turn themselves in to the US Border Patrol for processing into America. That's where Fox News drones caught them on camera.
But back in Mexico, that many vans in long snaking caravans in the middle of the night could not possibly have reached El Moral from Piedras Negras without state police knowledge and acquiescence. The caravans have to pass through a state police checkpoint on Highway 2, right outside a sprawling state police headquarters building. The Mexican immigration officer said that checkpoint was manned 24 hours a day, seven days a week.
And why stop and interdict them? What would the Mexicans do with so many when each and every one of them, no matter how young, were willing to pay $400 for the ride and river crossing.
Consider that each group of 2,000 caught by a Fox News drone was worth $800,000 to the state police or, more conservatively, $400,000 for a thousand.
State police dogged by allegations dating back years
Some Mexican media outlets have reported for years that an elite unit of the state police in the northern zone of Coahuila formerly known as GATE Special Weapons and Tactics Group (now Fuerza Coahuila), sent there in 2012 to oust the Los Zetas cartel, have operated as one ever since.
The unit uses the usual tools of intimidation, like assassination, torture and even car bombings mainly to control drug trafficking and, to a lesser extent, human smuggling. A fairly wide range of other Mexican media reporting dating to 2015 repeatedly implicate the elite unit's current leader Jorge Miguel Barajas Hernandez, also known as "El Hummer," and police director Hector Flores Rodriguez, alias "El Jaguar," of running the state police in northern Coahuila as a brutal cartel, ordering car bombings and always somehow evading prosecution even after arrests.
In September 2021, El Universal journalist Inigo Arredondo interviewed former and current members of GATE (a Spanish acronym for SWAT) and reviewed human rights complaints, missing persons cases attributed to GATE, and US court prosecution records in which the unit stands accused of gross human rights abuses for criminal purposes, he wrote.
He quoted Mexican lawyer Ariana Garcia del Bosque, representing the family of a missing man believed killed by the state police, accusing them of human smuggling operations.
"The maneuvers they are carrying out are not for the sake of protection but for the sake of controlling crime," she said. And this control has to do with the transfer and distribution of the drugs and the control of the passage of migrants to the United States."
Washington makes a boom goes bust
But booms always eventually go bust.
In early January, the Biden administration announced new policies that will force many border crossers back into Mexico where they can apply for "humanitarian parole" and then cross with U.S. permission through ports of entry.
The individual associated with the Piedras Negras smuggler told CIS that almost all traffic over the river immediately stopped. Gone are the caravans of mini-vans through El Moral.
All of which goes to show the criticality of U.S. policy is starting and stopping mass migration.
"American policy brought them and American policy has now stopped them," the person said. "The big groups that were crossing are no more."
At least for now.
Florida has filed a federal lawsuit challenging of the Biden administration's use of humanitarian parole to legally let in people who were otherwise going to cross illegally. That trial is underway in Pensacola.
The outcome may decide whether business would boom again for Coahuila State Police – and Fox News.