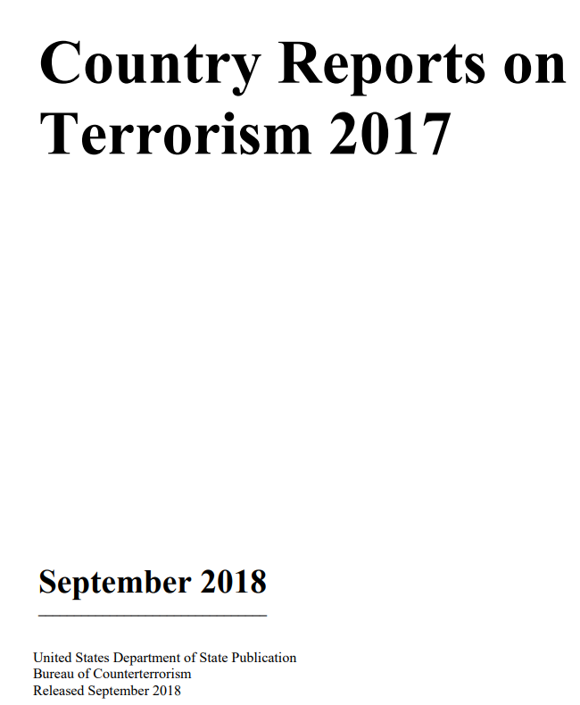 As explained already at some length in my recent CIS Backgrounder, migrants from Muslim-majority countries routinely get to the U.S. Southwest border by first reaching Latin America and traveling smuggling routes northward. Human smuggling networks that move these so-called "special interest aliens" through Latin America pose a recognized vulnerability of terrorist infiltration, which has driven significant American homeland security efforts to degrade them. These efforts are chiefly led by ICE Homeland Security Investigations stationed throughout Latin America.
To those of us who pay attention to related policy and operational matters, one important source of unclassified information can always be counted on to refresh analytical thinking. It comes from the U.S. State Department's annual "Country Reports on Terrorism" by the agency's Bureau of Counterterrorism. The latest report, reflecting calendar year 2017, was just released this month. All 340 pages of it can be read here.
Or, for quicker learning about how the report might inform this illegal migration threat issue, you can read highlights I picked out below.
First, a quick word of background and context: Each year, under requirements of the 2004 Intelligence Reform and Terrorism Prevention Act, the State Department has to provide Congress with a "full and complete annual report on terrorism for those countries and groups meeting the criteria of the Act." Typically, the report focuses on how nations where extremist groups operate are countering their respective (often unique) terrorism problems in Africa, East Asia and Pacific, Europe, the Middle East, North Africa, and South and Central Asia.
And the report includes, of course, the "Western Hemisphere" sans the United States. This section often provides telling new details about porosity and localized immigration enforcement initiatives that impact assessments about the border infiltration threat. The map below reflects data I've culled from two dozen U.S. court prosecutions of SIA smugglers over the years demonstrating where in Latin America special interest aliens are transported on their way north.
The State Department report, threading the issue with diplomatically aware language, provides an overarching assessment of how Latin American countries are doing in the immigration area.
First the bad news: "Many Latin American countries have porous borders, limited law enforcement capabilities, and established smuggling routes. These vulnerabilities offer opportunities to foreign terrorist groups."
And some good news: "[B]ut there have been no cases of terrorist groups exploiting these gaps to move operations through the region."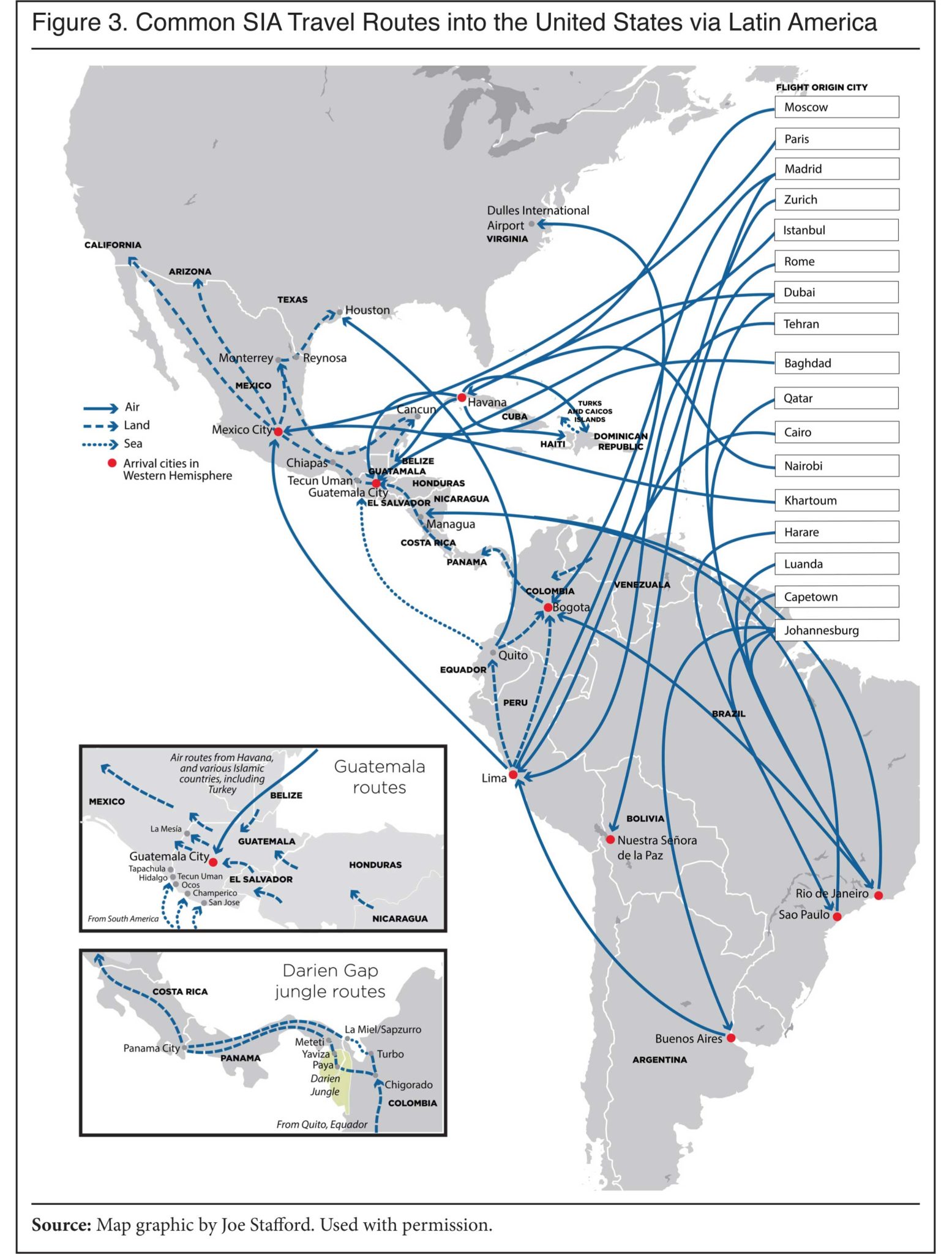 While it may be true that organized, hierarchically arranged "terrorist groups" didn't systematically deploy along the routes as ISIS did in Europe, the report unfortunately does not address whether unaffiliated small cells or home-grown individuals did, as also occurred in Europe. Quite a few home-grown citizens of Latin America have radicalized and plotted local attacks, even if it is not known that any wanted to head north to America on the smuggling routes. Hezbollah presences cropped up quite a lot in the reporting, too. For example, the report mentions, among many such instances, that Bolivian security services uncovered a Hezbollah cache of explosive precursors in the La Paz area.
The following summaries are based on excerpts about countries that some of my past research showed were most often used for the staging and transit of special interest aliens. (Not all of the countries you see on the map are reflected in the State Department report, and I added Trinidad & Tobago).