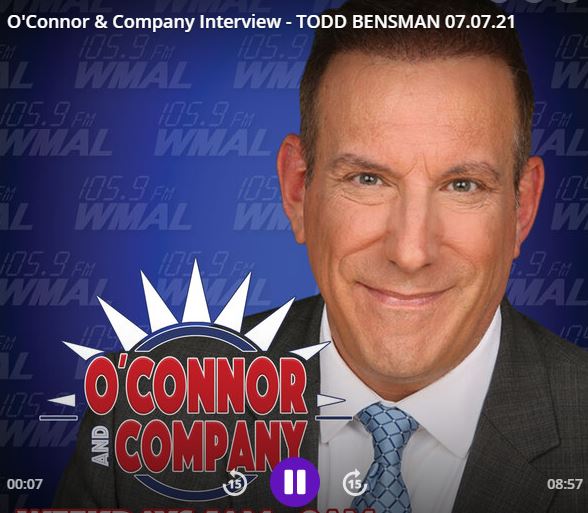 Host Larry O'Connor: I say a lot of time on your hands because it seems like the border crisis has been solved now. The media's not talking about it anymore. Biden's not. And Kamala went down to El Paso. Everything's fixed, right?
Bensman: Well, she should have gone where I just returned from, which is the Nicaragua-Costa Rica border where absolutely thousands and thousands of migrants from the entire world are on their way to the US border right now. I interviewed dozens of them over the course of a 10-day span. This trail going through Costa Rica, Nicaragua, Panama… that segment right there connects the entire world to the US southern border. I met Mauritanian immigrants there, Senegalese, Eritreans, and lots and lots of Haitians and Cubans. And all of them that I interviewed admitted or offered that they were coming to the southern border because the Biden administration had opened it up. That was their understanding. The issue with this particular kind of immigration… first of all these are not people coming from the northern triangle, you know, Guatemala and Honduras where Kamala Harris just returned from. These are people coming from the Middle East and Africa, terrorism countries and countries that are riven by atrocity-committing tribal militias. We have no idea who these folks are coming through.
O'Connor: Your book specifically talks about jihadist infiltration. If we've got people coming from all around the world, how do we know that they aren't terrorists or that they're in some way affiliated with a terrorist organization?
Bensman: Well, look, as recently as March we had a Yemeni immigrant cross into Calexico, California who was on the FBI's terrorism watch list. And he was the second one. There was another one in January who crossed, also in California, who came through the same Nicaragua-Costa Rica-Panama route and who was on the No Fly List. Look, there are people coming from countries of terrorism concern. Whether anyone wants to admit that this is happening or not, too bad; it's happening. CBP put a press release out about those two Yemenis that was accurate. They pulled it down within 24 hours because the White House intervened. I don't know what happened to the writer of that press release. I heard that he was fired for doing that. So the fact of the matter is that there are 35 countries of terrorism concern out there, and there are immigrants coming from every one of those places. They show up at the US border and say, 'my name is Mickey Mouse. Let me in. I claim asylum!"
O'Connor: Wait, they literally say Mickey Mouse?
Bensman (chuckling) Well you get the point.
O'Connor (chuckling). It's not beyond the realm right? I mean, they're given a script.
Bensman: Absolutely they're coached. They're very carefully coached in what to say to get through he asylum process. But when you have a border that is under this kind of strain, where all of the management systems that normally vet people like this, falling apart, God knows what's going to get through.