Will a Senate confirmation hearing recall troubling integrity scandals and heavy-handed re-direction on immigration law and fraud enforcement?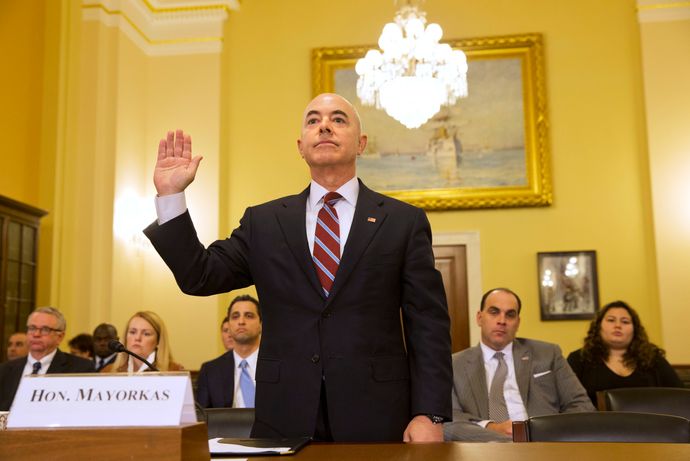 By Todd Bensman as originally published on November 30, 2020 by the Center for Immigration Studies

The man tapped to become U.S. Department of Homeland Security secretary, Cuba-born Alejandro "Ali" Mayorkas, would wear many hats running one of the country's largest bureaucracies. With some 240,000 employees, the DHS conglomeration created after 9/11 melds counterterrorism intelligence, emergency management, cybersecurity, the U.S. Coast Guard, and the U.S. Secret Service. But the planned nomination also portends far-reaching impacts on all forms of legal and illegal immigration.
Already, the 61-year-old Mayorkas has shown early interest in an oversight role over U.S. Customs and Border Protection (CPB), Immigration and Customs Enforcement (ICE), and the agency he once headed, U.S. Citizenship and Immigration Services (USCIS).
But despite largely laudatory media reviews of a Mayorkas appointment, his public service legacy features serial ethical imbroglios, a pointed de-emphasis on immigration fraud and law enforcement, and strong-arm management tactics to spike acceptances of immigration and asylum applications in disregard of eligibility.
While media organizations may have trod lightly over these trouble spots, a Senate confirmation process required for a DHS secretary nomination likely won't, a public interest that argues for re-visitation and a more complete picture of how Mayorkas may manage this policy area.
The son of Jewish-Cuban refugees who fled the 1959 communist revolution, Mayorkas served President Bill Clinton as an appointed U.S. attorney in California from 1998 through 2001, President Barack Obama as head of USCIS from 2009-2013, and as deputy secretary for DHS from 2013-2016, before retiring to a blue-chip law firm in Washington, D.C. He served perhaps most controversially as head of USCIS, the huge immigration-benefits management agency that oversees asylum approval processes, a fraud detection corps, residency and visa application processes, the E-Verify and SAVE immigration status-checking systems, and the citizenship naturalization process.
In their initial coverage, Politico, the Washington Post, the New York Times, National Public Radio, and other media organizations quoted former friends, colleagues, and Democratic figures praising Mayorkas for his experience and centrist politics. But the exuberant coverage largely tokenized several ethically questionable moments in Mayorkas's public service career dating to his California U.S. attorney days, leaving an incomplete portrait.
For instance, in its article about the prospective Mayorkas nomination, the Washington Post noted that only "Republicans" are likely to bring up a 2015 DHS Inspector General report that found Mayorkas inappropriately helped companies associated with powerful Democratic Party figures reverse employment visa denials for wealthy foreign nationals. The Post did not elaborate on its brief description of the scandal.
However, the public interest in that matter and others to be described, as well as Mayorkas's unconventional actions with regard to legal and illegal immigration, arguably extends beyond "Republicans" to everyone in Congress with a vote on the nomination, and to anyone who cares about corruption or how immigration and border security policy develops next.
Views on Immigrants and Immigration
Where Mayorkas stands on the core issues should not be hard to guess, given that Biden nominated him with a clear agenda. Biden has promised to reverse most Trump deterrence-focused policies for those likely to incentivize legal and illegal immigration. Biden, for instance, has promised to end deportations for his first 100 days, suspend construction on the southern border wall, reopen the severely abused asylum system to all comers, reduce detentions, and work toward amnesties for all of the illegally present.
As to where Mayorkas fits on the political spectrum, one tell is that no Republican voted to confirm him as DHS deputy secretary in 2013. A clue as to where on the open-borders spectrum to place him is that some of the biggest fans of a Mayorkas appointment are those who favor the lightest possible immigration enforcement touch, the most expansive application of asylum law, and the entrance of the greatest number of legal or illegal immigrants, press reporting and social media show.
Mayorkas was the architect of Obama's Deferred Action for Childhood Arrivals (DACA) policy that legalized some 700,000 mostly adult "dreamers" who arrived in the United States illegally as minors. Back in civilian life, where he associated with pro-immigration groups like the American Immigration Lawyers Association, which celebrated the nomination announcement, Mayorkas continued to speak out in support of granting amnesty to dreamers.
Emblematic of the partisan divide certain to persist on immigration after a Mayorkas confirmation were other congratulatory endorsements by migrant advocate groups, such as a quote reflecting the joy of Janet Murguia, president of UnidosUS (originally the National Council of La Raza), which opposes what it terms "indiscriminate" immigration enforcement. She told the New York Times that "after four long, dark years" of the Trump administration and "a general contempt for Latinos from the highest office in the land, Mayorkas's nomination signals a new day for the Department of Homeland Security and for all our country."
In post-service civilian life, Mayorkas served as a board member for the refugee resettlement agency HIAS, which advocates for higher numbers and liberal application of asylum regulations and against detention. HIAS was among many groups that also congratulated Mayorkas for the pending appointment.
Mayorkas wasted no time telegraphing which part of the vast DHS portfolio interested him: immigration and asylum.
"When I was very young, the United States provided my family and me a place of refuge," Mayorkas wrote on Twitter following Biden's announcement about him. "Now, I have been nominated to be the DHS Secretary and oversee the protection of all Americans and those who flee persecution in search of a better life for themselves and their loved ones."
Later, he messaged his intention to further the department's work to "advance our proud history as a country of welcome."
While none of these policy attitudes should surprise Washington insiders, a record of unconventional past actions suggests the extent to which the next Mayorkas incarnation may emphasize opening the gates wider rather than scrupulously enforcing the letter of immigration law.
Pressuring Employees to "Get to Yes" on Visas Applications, Forget Fraud
In October 2010, about a year after Mayorkas's appointment to head USCIS, Sen. Chuck Grassley (R-Iowa) penned a complaint to then-DHS Secretary Janet Napolitano. Its contents, though a decade old now, raise questions about Mayorkas's fealty to immigration and asylum law enforcement.
The Grassley letter, citing anonymous employee allegations, accused the top USCIS official of laying heavy-handed pressure on career employees to squeeze out higher volumes of immigration application approvals for the agency's "customers", while undermining fraud and ineligibility detection efforts.
After receiving an "inadequate response" from Mayorkas, Grassley's office interviewed seven employees, examined hundreds of pages of supporting documents, and presented the results in the letter to Secretary Napolitano.
"Unfortunately, the evidence suggests that Director Mayorkas is fostering an environment that pressures employees to approve as many applications as possible and condones retaliation against those who dissent," he wrote.
Among the inquiry's chief findings:
Mayorkas had become "visibly agitated" during a visit to USCIS's California offices when told employees there wanted to root out fraud. "Why would you be focusing on that instead of approvals?" he reputedly demanded. A witness said "his message was offensive to a lot of officers who are trained to detect fraud."
At a management conference, Mayorkas directed top officials to find ways always to "get to yes" regarding "customer" immigrants who filed visa applications. He told his subordinates to "look at petitions from the perspective of the customer" and that the goal was "zero complaints", implying that approvals were the means to that end.
At a conference in Landsdowne, Va., Mayorkas said there were some "managers with black spots on their hearts" who can't see their way to grant benefits and that he was "dealing" with them and also subordinates "too close" to them, with immediate involuntary re-assignments.
The California USCIS office was told to abandon an important anti-fraud measure that checked for high-risk applicants on a government database, and fraud specialists had to stop investigating such applications.
Perhaps as preemptive strike against any recollection of Grassley's 2010 letter, the latest media reporting about the Mayorkas DHS secretary nomination praises his ostensible track record of going after immigration fraud.
The Washington Post story allowed an unchallenged quote from John Sandweg, a former acting ICE director who served with Mayorkas, saying "One of the things Mayorkas was proudest of creating was the USCIS Fraud Detection and National Security Directorate [FDNS], to emphasize that vetting was crucial in giving out immigration benefits."
In fact, the FDNS was created as a small unit in 2004 with the creation of USCIS after 9/11 exposed severe systemic flaws easily exploited by terrorists. Further, while he may have signed an order to upgrade FDNS from a unit to a directorate, Government Accountability Office (GAO) reports about rampant asylum fraud and lack of prosecution during the Mayorkas years beg to differ with claims that he was ever interested in effectively vetting applications.
A damning December 2015 GAO report found that FDNS asylum fraud prosecutions rarely, if ever, occurred during the Mayorkas years. It found that half of the eight USCIS field divisions had referred either one fraud case to U.S. attorney's offices from 2010 to 2014 or none at all. One office reported that not a single referral had been accepted in the prior two years. Another reported that its U.S. attorney had accepted no asylum fraud referrals since 2010.
Besides strong-arming USCIS employees to "get to yes" instead of valid denials or fraud investigations, another reason for this dismal showing during Mayorka's 2010-2013 USCIS years was that the very FDNS directorate heralded in the Post story was never allowed to refer cases to prosecutors, subpoena witnesses, or even carry guns.
Under a 2008 memorandum of understanding that Mayorkas would have freshly inherited, the FDNS asylum fraud unit was required always to refer fraud cases to ICE Homeland Security Investigations officers, making them subordinate to ICE's enforcement priorities and limited resources. In practice, asylum fraud cases had to compete with many more attention-getting types of cases, such as human smuggling and trafficking, transnational gangs, and intellectual property theft. Even had the FDNS officers been allowed to do their own asylum fraud investigation jobs, there were only 34 of the shackled officers by 2015 to cover eight field offices nationwide, which processed hundreds of thousands of cases annually, the GAO report found.
Contrary to any effort to pitch him today as an asylum fraud crusader, Mayorkas did little or nothing either to free the FDNS investigators, add to their ranks, or generate more fraud case referrals.
In his 2010 letter, Grassley asked for documents and data that would help verify the allegations, but nothing that came of the request stalled Mayorkas's fortunes. He served several more years, his standing among Democratic leaders serving him well through a far more serious ethics investigation by the DHS Office of Inspector General.
The Inspector General's Investigation of Mayorkas
The DHS Office of Inspector General (OIG) investigation centered around Mayorkas's alleged interference in the already fraud-riddled and abused EB-5 visa program by which wealthy foreigners can essentially achieve U.S. residency and eventual citizenship if they invest $500,000 (raised since his tenure to $900,000) in the U.S.
The OIG case launched in 2012 on the strength of "an extraordinary number of DHS employees" who came forward to report that Mayorkas was providing "special access and special favors" to a handful of EB-5 visa applicants who were wealthy foreign national associates of powerful U.S. Democratic figures and office-holders doing the asking.
Many of the investors seeking EB-5 visas were Chinese nationals hoping to sink millions into:
Film projects with connections to former Democratic Pennsylvania Governor Edward Rendell, the mayor of Los Angeles, and Hollywood businessmen in late 2011.
A hotel and casino project in Las Vegas that was being pushed by U.S. Democratic Sen. Harry Reid in 2013 on behalf of some law clients of the senator's son, Rory.
An industrial investment fund's proposed hybrid vehicle factory in Virginia promoted by former Virginia Governor Terry McAuliffe and Hillary Clinton's brother, Anthony Rodham, from 2011 through 2013.
The OIG concluded that in these three cases Mayorkas "exerted improper influence in the normal processing and adjudication" of the visas, "inserted himself in unprecedented ways" in the adjudication process, and "intervened with the career USCIS staff in ways that clearly benefited the stakeholders.
"In each of these three instances, but for Mr. Mayorkas's intervention", the report summary noted, "the matter would have been decided differently."
None of the visa applicants would ever consent to OIG interviews, nor were the investigators ever able to find Mayorkas's emails and internal communications.
Mayorkas has always disputed the findings of improper intervention, saying he took a hands-on approach in cases only to strengthen the program's integrity.
Commutation of a Drug Trafficker's Sentence
A 2001 episode from Mayorkas's last days as a U.S. attorney in the central California district has less to do with immigration, but is relevant in that it speaks to an apparent willingness to bend rules for the Democratic Party powerful.
Mayorkas allegedly used the weight of his office and access to the Clinton White House to request commutation of a convicted drug dealer's federal prison sentence. President Clinton followed through with the commutation of a 15-year cocaine-trafficking sentence in 1994 for Carlos Vignali, Jr.
The intervention happened after Vignali's Los Angeles real-estate developer father, Horacio, rounded up an array of powerful Democratic political and civic leaders to pressure Mayorkas to help the cause, a 2002 congressional investigative report concluded.
Among those the senior Vignali enlisted was another Hillary Clinton brother, Hugh Rodham, who received $204,000 to successfully connect White House staff to Vignali's network of Democratic leaders in Los Angeles.
"U.S. Attorney Alejandro Mayorkas provided critical support for the Vignali commutation that was inappropriate, given his position," the congressional report stated. "Mayorkas, the top federal prosecutor in Los Angeles, was asked by Horacio Vignali to call the White House in support of his son's clemency petition. Mayorkas then called the White House about the Vignali commutation" and later conceded that "his call conveyed support for the Vignali commutation … despite his knowledge that the prosecutors responsible for the Vignali case opposed clemency."
Perhaps more troubling, during his 2013 Senate hearing, Mayorkas provided lawmakers with an alternative set of facts when asked. He testified under oath that the Clinton White House initiated the phone call, not Mayorkas, and that "I informed them that I did not support the commutation."
Mayorkas declined interview requests for a 2015 Wall Street Journal story about the "conflicting versions" he provided different government overseers.
A More Complete Portrait
Mayorkas' total service need not be judged entirely by the blemishes on his public service record. His relatively unmarred three years as DHS's deputy secretary expanded Mayorkas's range of expertise beyond immigration to, for instance, cybersecurity and domestic counterterrorism, his particular interest in funneling security grants to combat anti-semitism much-praised.
But all indications so far show that Mayorkas would spend time and effort on his immigration portfolio if confirmed. Integrity and ethics issues like the unrelated Vigliano commutation episode when Mayorkas was a U.S. attorney still need to be taken into account because they transcend any particular policy area. The integrity problems and management tactics of Mayorkas's not-so-distant past demonstrate his problematic susceptibility to bend convention to external lobbying. Given the stakes invested in leadership of such a large and consequential public agency as DHS, these all ought to be properly recounted and assessed.