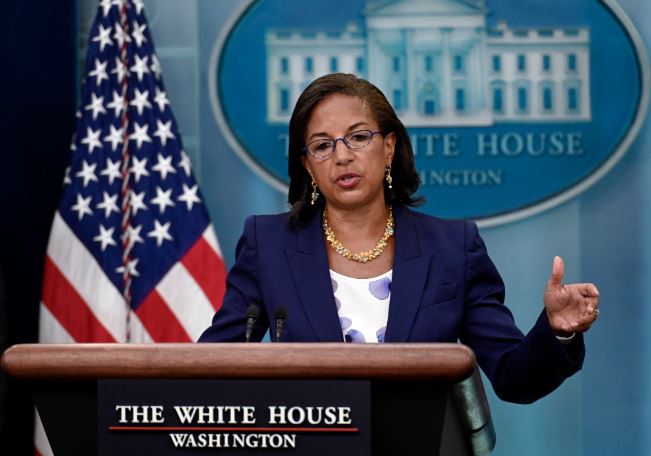 By Todd Bensman as published April 27, 2023 by Town Hall
Most of the analysis about the recently announced departure of President Joe Biden's domestic policy adviser, Susan Rice — and also of White House Chief of Staff Ron Klain just before her — overlooked what is perhaps its most important real consequence to the greatest number of Americans.
Yes, both are stalwart Democratic Party liberals. But few pundits or think tank analysts evidently recall that both Rice and Klain registered on the liberal spectrum as relative moderate pragmatists who spent much of 2021 and 2022 leading a rebel coup for control of immigration policy in the Biden administration. This rebellion came very close to ending what is by far now the worst mass illegal border migration event in American history. Extreme liberal progressives in the White House and its agencies have relentlessly dismantled immigration law enforcement and allowed millions to pour in as though there was no border at all.
The departures of Rice and Klain all but cement a coming new human tidal wave over the southern border — the all-but-certain result of the scheduled May 11 end of the pandemic-era Title 42 instant expulsion measure — that will wash over America this time with no chance of meaningful opposition from more sober, if self-interested, minds.
As elaborately recount in Chapter 15 about this in my book, Overrun: How Joe Biden Unleashed the Greatest Border Crisis in U.S. History, Klain and Rice were tip-of-spear in an internal White House rebellion to seize control of immigration policy from an extreme liberal progressive policy adviser no-borders cohort responsible for starting the mass migration crisis now in its third year. Nearly five million foreign nationals have poured over the border and been admitted.
The chapter, descriptively titled "White House Rebellion," attributes to Rice, Klain and a few others a buffet of hardline, downright Trumpian border security policies that went entirely unreported but immediately caused ebbs in total flows during 2021 and the first half of 2022.
No one should misconstrue Rice's work in this regard as coming from a place of authentic care that slowing the massive in-flows was fundamentally good for America. No, Rice waged her rebellion against the no-borders progressives in her sphere mainly because doing so was deemed good for the retention of Democratic Party power.
Her eye was on the 2022 mid-term elections and the belief that American voters, whom polling showed hated the border crisis in majority numbers, would punish the Democrats for what the progressives were wreaking. No matter about why she did it, really, because Democracy sometimes works for the common good in the service of such self-interest. What matters is that few such oppositionist operatives now remain on Pennsylvania Avenue.
Battles won, sort of
One of the most impactful of the measures Rice & company backed was an aggressive Title-42 ICE-Air deportation campaign that managed that sent as many as 250,000 Haitians, Africans, and Central Americans to home country tarmacs or to southern Mexican ones for Mexican deportations by bus, with nary a media report about any of it. As a result, Haitians and Central Americans who'd invested thousands in smuggling fees stayed away from the U.S. border in droves as these investment-wrecking flights went on day after day, month after month.
It was, in part, the Klain-Rice partnership that engineered and quickly liquidated the politically problematic eyesore of the infamous "Del Rio migrant camp crisis" of September 2021, using air deportations to ship half of the camp's 15,000 Haitians back to Port-au-Prince even though these outraged progressives in their party and workspace.
The Rice-Klain faction even managed, for a time, to get Colombia to take back Venezuelans who'd been living there for years but had decided to reach for the U.S. border because they noticed progressive policies were admitting them in at the border.
The Klain-Rice duo battled the progressives openly in conference rooms and covertly with palace intrigues for other bits and pieces of real deterrence measures while the progressives sought to undermine them. Hers, for instance, was a minority voice that opposed the grand-daddy of all progressive policy targets, the quick elimination of Title 42's incredibly impactful rapid expulsion power. She lost that one (though courts intervened) but not other fights.
As I report in Overrun, another policy their faction engineered out of all public sight was a high-wire diplomatic campaign that I call "the Airport Visa Campaign." For a time, this campaign forced Mexico and a dozen other nations to alter their visa requirements in ways that would make it more difficult for Cubans, Venezuelans and dozens of other nationalities to hopscotch to the American border aboard airplanes.
In a sure sign that the air deportation and visa crackdown campaigns were working, 87 human rights and migrant advocacy organizations on June 30, 2022 penned a public outrage letter to the American and Mexican presidents. The groups demanded the countries halt these "enforcement-centric policies" and replace them with "humane migration management," the encrypted catch-phrase for open borders.
The Trumpian measures that Rice and her few allies scratched and clawed out worked in the short-term, showing up as clearly coinciding dips in monthly U.S. Customs and Border Protection border apprehensions data. And on the ground among their targeted immigrant nationalities as real decisions to flee south from the border, or stay away from it altogether until the policies went away, as they inevitably did. The progressives fought back, eventually undermining the airport visa campaign through lack of insistence in its longevity, for instance, and somehow torpedoing the Colombia agreement to accept back Venezuelans.
The insurgency is crushed
Unfortunately, the insurgency that featured Rice so prominently would go down in defeat, at least temporarily. As I write in Overrun:
"It failed during this period because the president who ordered it did not understand that suppressive measures had to be applied universally. Illegal immigration deterrence is an all-or-nothing proposition. And so the closure of a gate or two would never overcome the powerful voodoo of opening side gates, which is what always ended up happening. The crosscurrents were simply too strong and undercutting. The insurgent pragmatists could never apply their ideas consistently and comprehensively across the board as was necessary."
Mid-term voting didn't cut the party anywhere nearly as deep as predicted, either, further undermining a motive to stop the mass migration that progressives so love. After the election, President Biden vowed he would not change a thing about his immigration policy.
But now is the worst time for people like Klain and Rice to depart, so far as the border crisis goes. Title-42 with its instant expulsion power and denial of access to the U.S. asylum system is nigh. It is set to end on May 11.
A cornerstone of the policy's replacement is called Title 8 and its "expedited removal" authority that the administration claims it will apply with great vigor.
But a quick read of all the administration's policy documents shows the progressives have punched loopholes all through it. As I wrote recently in The New York Post, just about anyone who shows up at the border after May 11, if they say the right words, seems assured of entering the country. Millions more are on the way.
And there are few left in the White House who will oppose them.