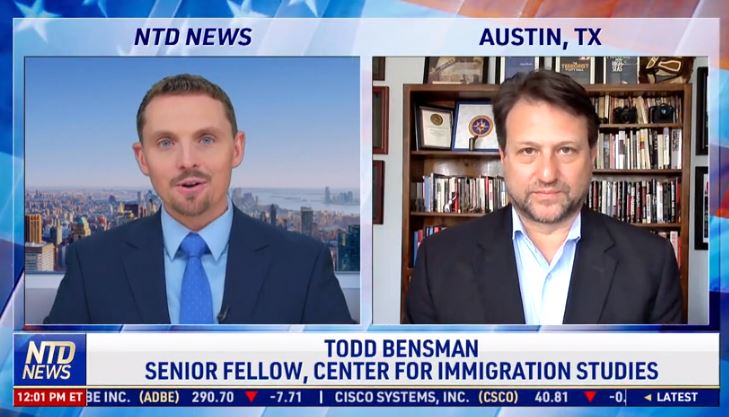 A hundred miles east of El Paso on Sept. 30, a vigilante in a pickup truck shot at a group of illegal immigrants, killing one man and injuring a woman, according to the Department of Homeland Security. NTD spoke with Todd Bensman, author and senior national security fellow with the Center for Immigration Studies. He recently wrote an article titled "Biden Administration's Refusal to Enforce the Border Is Breeding Dangerous Vigilante Sentiment."
OUTTAKES:
Bensman: "I've been hearing for several months now people talk about bringing guns down to the border and killing immigrants and so have other speakers and people who are in the community of advocates for border security here in Texas. It sounds widespread, of an extremism. And my column calls this out and condemns this. I think that we all need to take a deep breath, find out who among us is thinking about doing this and turn them in. And condemn it. That is not an acceptable way to approach the border crisis at all. In fact, it's counterproductive. But worse, we don't want to see immigrants being shot by vigilantes."
Bensman: "There was an incident in Hudspeth County, Texas where two locals took out a shotgun and murdered an immigrant by the side of the road and critically injured another. And so now was, I thought, a good time to bring this to light and talk about it, that there is an extremism afoot. There's no doubt that people are incredibly frustrated and angry here in Texas. I encounter that anger all the time. I mean it is really viceral. I haven't seen anything like this in a while. There is true anger over the inability of the Abbott administration to stop this and, especially, by the Biden administration policy that has fomented this whole thing, and they won't do anything to stop it. Its whole policy is to usher in millions of people. That's literally policy. Everywhere down there, everyone is packing weapons for self-defense. That's different than what looks to me to have happened in Hudspeth County.