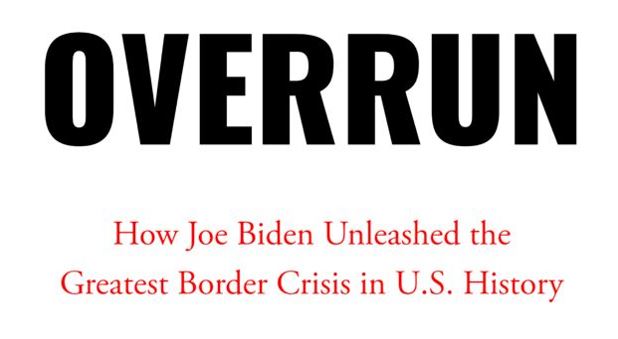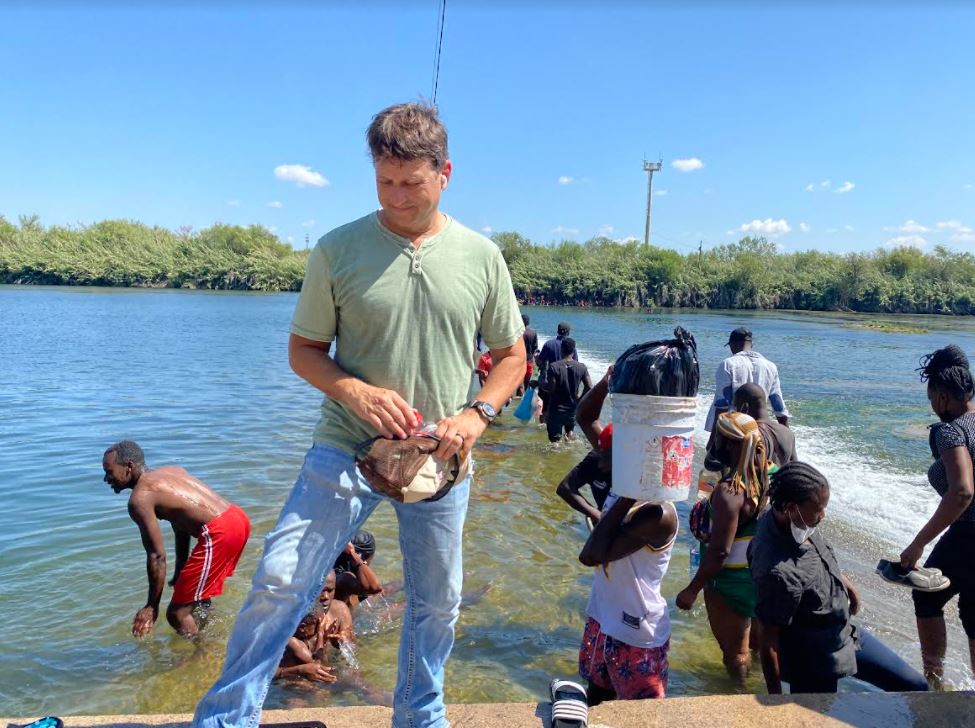 Following the success of America's Covert Border War, The Untold Story of the Nation's Battle to Prevent Jihadist Infiltration, Posthill Press's Bombardier Books imprint has contracted author Todd Bensman to write a second book. The tentatively titled new book, OVERRUN: How Joe Biden Unleashed the Greatest Border Crisis in American History, will address the mass illegal immigration event triggered by the nomination, election and policies of President Joe Biden, the most severe in recorded American history.
Bensman's book is scheduled to be published sometime in the summer of 2022. It will be based on Bensman's on-the-ground field reporting among the migrants involved throughout Mexico, Central America and all along the American border.
See what they are already saying here.
CONCEPT
The time has come to acknowledge and comprehend that America is weathering the greatest mass border migration event in its recorded history. Millions of foreign nationals have already overwhelmed southern border defenses, and millions more will pour over by the end of President Joe Biden's term in 2024. Nothing like this foreign population explosion has ever happened to the United States, even in the storied chronicles of Ellis Island. Sucker-punched Americans caught by surprise by what the modern Democratic Party wrought at the border most certainly did not vote in 2020 for the inalterable societal change that will come as a direct result. The American electorate has upcoming chances, finally, to have that say and to reclaim a basic national sovereignty responsibility. Unfortunately, the people are not in possession of the reporting necessary to fully understand what happened — and what is about to happen if they do not.
This book delivers that accounting. It also provides a roadmap to the future Americans are facing not only at the physical border but throughout the country if nothing changes. Here is what has really happened with illegal immigration in the United States since 2020. Here is an account of how and why, after decades of more or less status quo, the situation stands utterly transformed. It's an account based on the author's extensive 2021–2022 frontline reportage throughout the borderlands and along the migrant trails of Central America, in spite of credible death threats abroad and multiple encounters with cancel-culture hatred at home. The book documents how a politically ascendant liberal progressive faction of the modern Democratic Party took control of U.S. immigration policy after the 2020 national election and, based on this movement's reality-divorced myths and bizarre ideologies about immigration, immediately dismantled border defenses and unleashed the mass migration tsunami of permanent consequence without the consent of the American people.
Most of all, it is a tale told by the people on the move, through the unseen smuggling hubs of southern Nicaragua and the emptying central highlands of Guatemala, to the cartel-ruled central plazas of northern Mexico cities and the infamous Del Rio, Texas migrant camp of September 2021.
PROLOGUE
At 7 a.m. one rare rainy morning, I parked on a back side street alongside the McAllen International Airport, near a locked rolling gate hung with a red sign that read "Authorized Personnel Only." A chain link fence topped by razor wire followed a row of giant airplane hangars along the street to my right, obscuring all but the tail of a chartered jet.
Right on time, a large 4X4 Toyota Tundra pickup truck led three large white charter buses past my parked car up to the closed gate and stopped. A GMC pickup truck pulled up to the side of the second bus. A Ford F-150 brought up the rear behind the third one. I could see through the darkened bus windows that they were full of people, immigrants, about to be driven onto the tarmac. Soon, the gate rolled open and the entourage rumbled through and around to where a silver World Atlantic jet named "Emily" idled. I knew from earlier Internet research that it was contracted to ICE-Air. I jumped out of my car and rushed over to a fenced gap between hangars and began shooting video. I knew the pickup truck drivers were plain-clothed ICE agents and that this was one of hundreds of air deportations of Guatemalan, Honduran and El Salvadoran women and children that the administration of President Joe Biden had been secretively carrying out for four months already without a single news story about them.
Within minutes, I was filming the women and children coming out of the buses and filing up the jet's rear stairwell. The ICE agents sent airport security officers on a golf cart to warn me that I was trespassing. McAllen police showed up a few minutes later as the plane was taking off to Guatemala City, where it was going to deposit the 150 immigrants and then come back for more and more. But I already had video evidence for my report. By then, the Biden administration had somehow managed to deport more than 150,000 immigrants by air down to every Central American capital and southern Mexico, which had a secret agreement with the Biden administration to bus them from their airports to home countries. No media outlet in America wanted any part of this story, even after I revealed it.
The U.S. was by then 10 months into the greatest illegal immigration border crisis in its history, and these flights fell right through a yawning partisan political divide in its telling. For the conservative media, the huge air repatriations story disrupted established narratives that Joe Biden had completely opened the southern border wide to all comers. For liberal media, the same story would have sparked a furious rebellion among progressive leftists against Biden, exactly as a similar airlift had just two months earlier when the president's Department of Homeland Security liquidated a massive immigrant camp in Del Rio by flying thousands of Haitians all the way to Port-au-Prince. The Biden people desperately wanted this story to stay under wraps, hence the plain-clothed ICE agents, the unmarked civilian trucks, buses and non-governmental look of the jets.
No one in either the so-called conservative or liberal media wanted to acknowledge these deportation flights, and I mean no one, for their own political reasons.
I told the story of the Biden deportation flights anyway because they were objective truth, and I do not care that it flustered a conservative narrative of talking points, nor that it might get Biden in deep trouble with his noisy progressive left wing. The flights were happening and held the power to inform both sides of the divide, come what may. That is my approach to this book about the biggest and most consequential mass illegal immigration border crisis in American history, a characterization in itself that partisans can't even agree is true.
Except that it is true.
What this episode of immigrant-embracing President Biden sending 150,000 women and children immigrants back to their countries while flying thousands of others into the American interior tells us is that real truth is sometimes complex and gray. A pandemic of damaging partisanship plagues America, to such an extent that objective truths about every important issue of the day are obscured by partial and omitted narrative. That is especially so with the lightning rod of illegal immigration and border security. It tells us that, when it comes to understanding the schizophrenic, ever-changing story of immigration into the United States of America, almost nobody behaves rationally, all or even much of the time. Not the politicians at the federal or state level, not the media, not the Border Patrol, or the people living in towns along America's 1,954-mile border with Mexico. And not even the immigrants themselves who, contrary to most people's ideas about them, do not hail only from a handful of Central and Southern American countries. They've come from 150 nations, from the Middle East, Eastern Europe and Asia, in the biggest percentages in U.S. border history.
I've been reporting about or helping to enforce the law along the border for more than 20 years. I've written this book to cut through the fog that political factions relentlessly blow over what is, objectively by every metric, the biggest and most sustained mass immigration episode ever to befall the country. My aim is for clarity.
But to give you clarity requires that I bring you straight into the heart of the chaos where I have been since even before the beginning of it.
And, truly, I can say that the American Southwest Border has never, in the history of the United States or in my 20 years working along it, descended deep into such schizophrenic chaos. That's no overstatement. The fact is, since the 2020 presidential election, the Biden Administration has permitted, if not facilitated, a biblical Noah's flood of humanity straight into our interior – more than two million people as of this writing in June 2022. And the swell is still rising fast. America was overrun fast after inauguration day, and millions more are going to pour in before it's all over. I write this book because what has happened is so mammoth and transformational that it already has made American history, and someone has to document it even as it still unfolds. I volunteer because the effects of this influx will be generational in its impacts on our country. Should this mostly one-way global traffic continue unabated, the impacts from it will only grow in extremity.
Joe Biden and his administration did this, all of it.
I will trace the unleashing of this historic crisis to his very first day in office. The president and the people in his government blundered about in abject ignorance about how immigrants think and make rational decisions for their families. Or, maybe they did it all with purpose, understanding the immigrant thinking all too well. Either way, those physics will be taught here. But the story is more complicated than that. At the same time the Biden government unleased the crisis – though few want to admit it – Biden and his people have second-guessed themselves and, when they felt they had to, reverted to Trumpian behaviors that neither he nor his opponents would ever cop to. In addition to his secret deportation flights, Biden has demanded that countries like Mexico, Honduras and Guatemala use their militaries on huge caravans of hopeful U.S.-bound immigrants.
Hundreds were beaten bloody at Biden's arms-length insistence, to keep caravans from becoming a political problem just as did Trump. To liquidate a massive embarrassing migrant shantytown in Del Rio, Texas, Biden flew thousands of Haitians, wholly against their will, back to their homeland on flights that turned so violent that the immigrants tore the insides of the planes apart before they were forced to disembark in a homeland they had hoped to never lay eyes on again. Same goes for his sending outbound planeloads of unsuspecting Hondurans and Guatemalans, all of whom thought they were being sent to cities inside the U.S., like thousands of their fellow citizens actually were.
Yet the Biden administration's channeling of Trump was never enough to overcome, as deterrence, its misunderstanding of immigration fundamentals and its many more moves that triggered an unending Mississippi River flood of illegal immigration. These smashed every American record in its first year and pointed only to escalation for the rest of his term. While I charitably argue that Biden and his people simply bumbled about blindly, dumbfounded in a fog, others argue that they very much did understand what they were wreaking and did it all on purpose. This we won't really know for some time. Either way, those elected to lead the future America will need to learn the basic physics that start and end mass migrations, lest they never know how to prevent them. The way to do so is simple in principle, if demanding in practice. In short: future waves of would-be border crossers must be made to understand that their chances of success are low. A purpose of this book is to explain how and why this is the key.
I'll also argue that, ultimately, Biden's few episodic crackdowns would be far more humane on immigrants than were his more predominant open-door policies. The sad result of Biden's open doors policies is that they inspired endless subsequent waves of immigrants, which because these were never resisted consistently over time, remained an enticement that begat ever more volume and intensity. One of its terrible direct consequences formed the basis for a United Nations report released in July 2022 that counted 1,238 migrant deaths and disappearances in just 2021, the most since the agency started counting, and declared the U.S.-Mexico border "the deadliest land crossing in the world."[i]
Thousands of immigrants are dead who, had they not answered the siren call to America's much-opened border, would otherwise still live. Tolerating unchecked illegal immigration does not protect but kills, while also exposing the United States to national security threats like terrorism and unending burdens it can't possibly bear, and certainly not in these numbers.
A main theme of this book is that people seeking to economically better themselves – most of whom are not, no matter what they claim, fleeing political persecution – by coming to the southern border, must be stopped as reason for others behind them to stay home. Not only to as a matter of national interest, to maintain the sovereignty of the United States, and support its continued status as a nation of law, but also to protect the migrants themselves from the kaleidoscope of harms that unimpeded immigration portends. That which seems cruel at the end of the migrant trail exerts a protective impact at its genesis, over thousands, if not millions, of people who will choose not to follow only when they calculate that they probably will fail.
What Biden has wrought at the border goes beyond anything in the American experience. But the choices that caused it falls very far outside mainstream Democratic Party conventions. No prior Democratic administration would ever countenance a single one of these policies. As I will show, a series of circumstances produced a cultural shift that pushed the party to depart sharply left from its own long and recent history of tightly managing illegal immigration.
An extreme faction of the party's coalition was allowed to wrestle control of immigration policy during the 2020 election cycle and take the nation into a strange and dark netherworld that most Democrats must surely know deep inside existed only in an outlying twilight fringe. Somehow, the main point of contention on illegal immigration warped into whether a southern land border and immigration laws should even exist. That proposition is far beyond all main shipping lanes. On this basis alone, both sides of the political aisle in the U.S. should and actually can come together to return things to their traditional contested center. Snapping back from crazy moments in the long lifetime of a nation is one main purpose of elections in America, and those opportunities are immediately ahead.
But to snap back to the sane center on this top-polling issue, Americans need comprehension and clarity about what really happened down there at the border, how it all started, and why this border drama is different and more consequential than any other in the American experience. I was there to witness it from the beginning. This crisis will unwind for some time to come. Given that it is far from over, one other worthwhile goal of this book is that it help readers follow that bouncing ball all the way to the next few election cycles, where they can have a say in writing the final chapter of this thing.
To help you see around the bend, let me first introduce you to the chaos …
---
[i] "Latest Migrant Tragedy in Texas Highlights Crisis Along Deadliest Migration Land Route," United Nations International Office of Migration, 1 July 2022, https://www.iom.int/news/latest-migrant-tragedy-texas-highlights-crisis-along-deadliest-migration-land-route