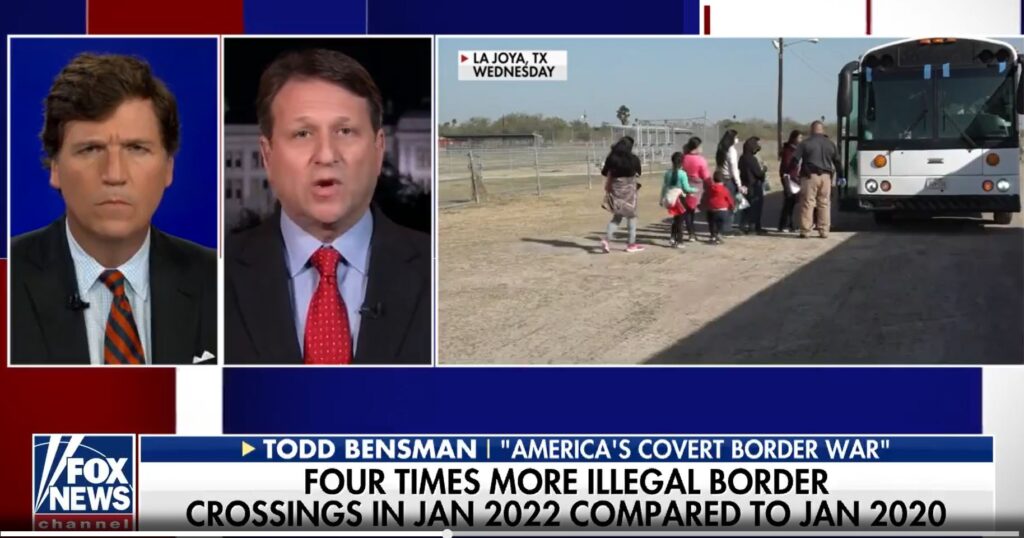 Poll numbers may encourage Biden administration to pursue 'Trumpian' policies: Bensman
Feb. 19, 2022 – 2:19 – Author Todd Bensman discusses the border policies the Biden administration may pursue as midterms loom on 'Tucker Carlson Tonight.'
Transcript:
Todd Bensman is the author of "America's Covert Border War." We're happy to have him join us tonight. Todd, thanks so much for coming on. So give us a sense of the scale of this. It just seems historic.
TODD BENSMAN, AUTHOR, "AMERICA'S COVERT BORDER WAR": Well, 154,000 in a single month is unacceptably high. You mentioned that it has doubled from January from last year, but the year before that January it was 36,000 just to give you an idea.
The numbers totally are about two million for just one year, the last — the first year of the Biden administration and this is directly on his shoulders. It was his policies that set this thing off, and I think anybody should forget that.
There is something interesting about these numbers, though 154,000, they are declining, month by month. The peak of this, what I call the Biden border crisis was in July at 219,000. Last month, it was 178,000, and so the numbers do seem to be kind of creeping down and there might be a few good reasons for that, some interesting explanations for that as well, one of which is that the Biden administration is looking at these poll numbers, terrible polling for the midterm elections and they are ordering up some pretty trumpian kind of deterrence based policies like air deportation flights.
Very significant numbers of Guatemalan women and children, they are flying all the way back to the tarmac in Guatemala, and also in Honduras, and El Salvador, and they just restarted air repatriation flights to Haiti, and I think that maybe there's a chance that, you know that those are radioactive to migrants who are coming up.
Nobody wants to cross the border, spend a whole bunch of smuggling money if they think that they're going to be heading all the way back to square one. It is a possibility.
CARLSON: Yes. Well, if you made them cool their heels in Tijuana indefinitely, that might be even a greater deterrent, I would think. You know, but what do I know?
Todd Bensman, great to see you. Thank you.