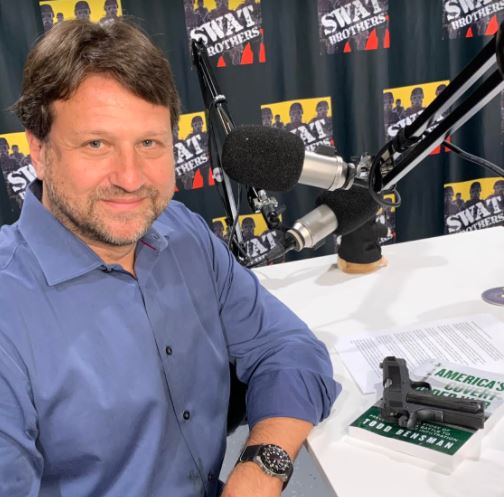 Todd Bensman says the mass migration crisis on the southern border has overwhelmed the U.S. border patrol to the point where terrorists may be able to slip through.
In Texas, the Department of Public Safety (DPS) state troopers work the banks of the Rio Grande as illegal immigrants flood across.
Operation Lone Star is attacking both human smuggling and narcotics trafficking on air, land, and water.
In SWAT Brothers' previous episode, Jaeson Jones, a former member of DPS Homeland Security intelligence, took our listeners to the front lines of a war.
Jones, who runs the Tripwires and Triggers website is an expert on the Mexican Cartels' sophisticated human smuggling operations.
Jones explained how the Cartels are making tens of millions of dollars on the backs of illegal immigrants as well as abusing them and outright killing some of them.
The unfolding mass migration crisis raises concern that Islamic jihadists will infiltrate the border to commit terrorist acts.
After 9/11 America mounted a secret and ongoing counterterrorism campaign at the southern border that has worked up until now.
That's the subject of this SWAT Brothers episode.
Since we recorded this episode, Governor Greg Abott has pledged a $250 million dollar down payment to build a wall across the Texas border with Mexico.
Abbott says the wall is needed to stem the tide of illegal immigrants and drugs being smuggled into Texas by the Mexican Cartels.
"In just the first four months of this year, just the Texas Department of Public Safety had an 800% increase in the amount of fentanyl they had apprehended," Abbott said. "They apprehended enough fentanyl to kill more than 21 million Americans."
In this episode of SWAT Brothers Robert Riggs and retired Dallas Police Lt Bob Owens talk to Bensman about his 13-year work of journalism titled America's Covert Border War. The Untold Story of The Nation's Battle To Prevent Jihadist Infiltration.
In full disclosure, Todd and Robert Riggs, the cohost of the SWAT Brothers podcast worked together at the CBS station group. After Riggs came back from an embedded stint in Iraq in early 2003, Todd reported alongside Riggs as an investigative producer.
The pair of reporters exposed the roots of Al-Qaeda and Hamas international terrorism activities from Texas to the United Kingdom and beyond.
Bensman and Riggs are old-school journalists who go to the place where news is happening in order to accurately tell people what they learned.
They were known among law enforcement as the journalists who knocked
on a lot of doors together and wore off the leather soles of their shoes tracking information in person.
After journalism, Bensman joined the Texas Department of Public Safety as a counterterrorism analyst. And he earned a master's degree in security studies from the Naval Postgraduate School's Center for Homeland Security and Defense.
Bensman makes regular trips to the Mexican side of the Texas border.
We start by asking Bensman to explain what he says is the cause of the current mass migration crisis.
https://www.instagram.com/swat_brothers_podcast/
SWAT Brothers is a trademarked and copyrighted news show produced by the True Crime Reporter™ podcast.
It is hosted and written by Peabody Award-Winning Investigative Reporter Robert Riggs and Retired 40-year Dallas Police Lieutenant Bob Owens who served twenty years in Dallas SWAT.
It is produced by Grace Woodward.
Send SWAT Brothers your questions about firearms, equipment, training, or any other subjects to FastDrawFriday@gmail.com. We answer questions on the 3rd Friday of each month. Contact us there if you want to be a guest or recommend a guest or subject for an episode.
Learn more about your ad-choices at https://www.iheartpodcastnetwork.com