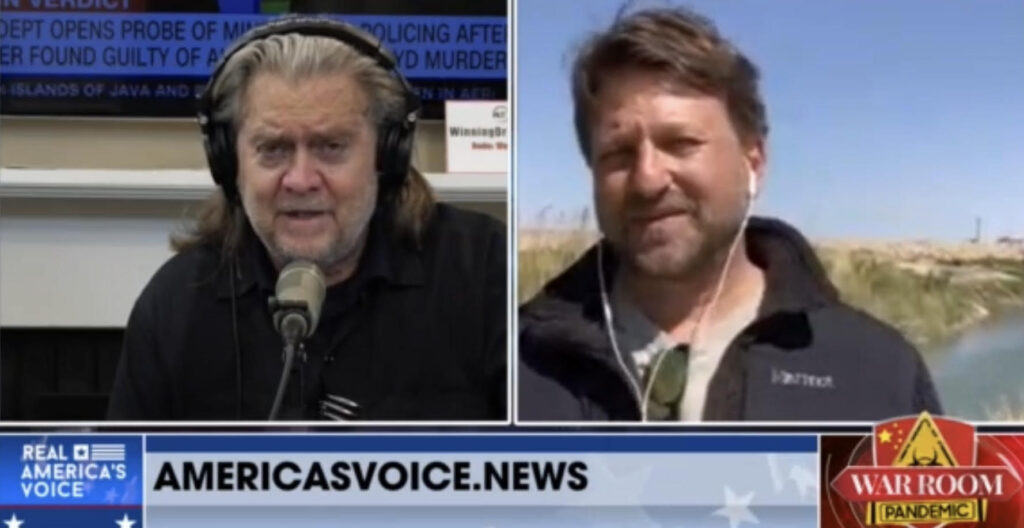 Watch the April 21, 2021 segment here
Excerpt:
Bannon: So where are you today, Todd?
Bensman: I am in Ojanaga, Mexico, which is the Mexican town just across from Presidio, Texas. Think Big Bend National Park, big sky Texas country.
Bannon: Todd, with all the other activity in the Rio Grande Valley, activity in McAllen, what takes Todd Bensman to the Big Bend Sector of the National Park?
Bensman: Because something very unreported is happening here. If you look at the CBP statistics, from February over March, you had about 3,000 adult singles for the fiscal year up until February and then, in March, you had 15,000. So it was a 365 percent increase. And something very unusual is happening here, and what that is, is single adult immigrants who would normally be pushed back in a more populated area are flocking to this area and being brought over by the hundreds and hundreds and thousands through wild Texas terrain by the cartels. It's absolute boom town here in Ojinaga. I just talked to a cartel guide, who's just maybe about a hundred yards over here, who was explaining that immigrants from all over the world, from every conceivable country, are now coming to Ojinaga to make this trek through the wilderness. It's maybe a four or five day backpacking trek through the mountains to Interstate-10, which is ultimately where everybody's going, or State Highway 90. The reason they selected this area is because on the Texas side, in the Van Horn station area, and the Sierra Blanca station area, there are a total of about 10 Border Patrol agents for 120 miles of border. There is no defense here. None.