by Todd Bensman
Special to IPT News
April 20, 2021
When Defense Department Arabic linguist Mariam Taha Thompson's love affair abruptly ended with her arrest last year, her own hurt feelings paled in comparison to other damage it wrought. The Rochester, Minn. widow's romance placed the lives of real American soldiers and intelligence informants in harm's way, disrupted U.S. military operations, and betrayed her nation's deepest trust.
That's because her love interest was an acolyte of Lebanese Hizballah, whom she pursued despite knowing he was connected a U.S.-designated terrorist organization serving Iran. She pleaded guilty last month to delivering highly sensitive classified national defense information to an Iranian proxy, through its terrorist proxy group that her man served. Her sentencing is scheduled for June.
It turns out that Thompson got caught in a classic "honeypot" spy trap, an operation where an agent poses as a romantic suitor to obtain access to valuable secrets. The lonely widow who worked for the U.S. military in Iraq certainly qualified.
Her boyfriend sought information about eight informants who helped the United States target Iranian Quds Force General Qasem Soleimani in January 2020.
Thompson's honeypot relationship also put U.S. troops and intelligence officers in the bullseye of vowed Iranian retaliation for the airstrikes that killed Soleimani and a Hizballah militia leader in Iraq. Finally, she turned over American military priority target lists during active operations.
Her terrorist beau, who remains unindicted and is referred to in court documents simply as "the co-conspirator," had a nephew in the Lebanese Ministry of the Interior, close associations with Hizballah commanders, and once told her he received a ring from Hassan Nasrallah, the terrorist group's leader. That was all fine by the love-struck Thompson.
"It's astounding that an American working for the U.S. military overseas would abandon her country in favor of terrorists," Assistant Director Alan E. Kohler, Jr. of the FBI's Counterintelligence Division, which spearheaded the investigation, said in a prepared statement after her guilty plea was announced. "The FBI and its partners placed a high priority on this case because the defendant provided classified defense information to a foreign terrorist organization…that put members of the U.S. military in harm's way."
From Minnesota Patriot to Terrorist Turncoat
Thompson was born in Lebanon and became a naturalized U.S. citizen in 1993, after marrying an American dental technician. The couple moved to Minnesota in 1993 and raised children. Her husband died in 2002.
She began working as a contract Arabic linguist in the summer of 2006, assigned to a Special Operations Task Force facility in Iraq, according to statement of facts in her plea agreement.
In 2012, she obtained one of the highest available clearances for handling and protecting information, Top Secret for Sensitive Compartmented Information. The clearance was granted after intensive background investigations and training about protecting national defense information.
Thompson would return to Minnesota and rotate back to Iraq over the years, but also would occasionally visit her family in Lebanon. It was during one such visit in 2017 that a relative introduced her to "the unindicted co-conspirator," initially through social media, court papers show. He led her to believe he was wealthy, politically connected and was looking for a wife.
For the next three years, the two communicated several times a day using a video-chat feature on a secure text and voice messaging application. She learned he was a Shia Muslim who associated with Hizballah.
"Thompson eventually decided that she would marry the unindicted co-conspirator after retiring," the statement of facts said.
Thompson went back to work at the Erbil, Iraq facility in December 2019 as the United States was launching airstrikes against Kata'ib Hizballah, an Iranian-backed force in Iraq that had been designated as a foreign terrorist organization a decade earlier. The month after Thompson's return to Iraq, on Jan. 3, 2020, an airstrike killed Soleimani and Kata'ib Hizballah founder Abu Mahdi al-Muhandis.
Right after the strike, Thompson's beau called her sounding "very emotional and upset about the U.S. airstrikes," and asked her to provide "them" with information about the informants who helped kill Suleimani and al-Muhandis, the statement of facts said.
"Thompson voluntarily decided to provide classified national defense information of interest to the unindicted co-conspirator and Lebanese Hizballah, believing that if she did not, their relationship would come to an end, and the unindicted co-conspirator would not marry her," the document said.
She mined Defense Department systems for the informants' names. At first, she would commit them to memory and use Post-It notes. She gave it all to the terrorist romancer on the video-chat app. Later, she streamlined the process by compiling cut-and-pasted photos and information from other reports inside one she'd create.
To make matters worse, Thompson took photos of incoming messages from the American informants. She passed all of this along to the boyfriend with still other information that could only have thrilled top leaderships in Iran: a list of at least 10 of the American military's highest priority targets in the region (including one Hizballah operative) before they were struck, a Justice Department statement said.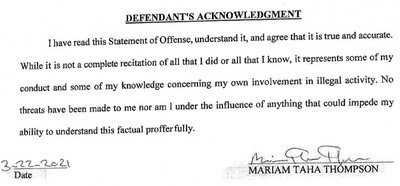 Thompson stipulates to all of these actions in the signed statement of facts.
FBI counter-intelligence agents arrested her in March 2020.
Taken together, all of this translated to a high-grade Hizballah intelligence success.
The terrorist boyfriend would regularly praise Thompson and let her know how pleased his Hizballah contacts felt, to such an extent that he promised to introduce her to a certain commander during her next Lebanon visit.
"Thompson intended and had reason to believe that this classified national defense information would be used to the injury of the United States and to the advantage of Lebanese Hizballah," the DOJ statement said.
Aftermath
Nothing in the public court record tells of any terrible consequence her betrayals had for American informants or troops. But the Hizballah honeypot operation likely resulted in deaths and disrupted American military strategy in Iraq and Syria.
The United States would have been forced to remove and hide any of the surviving compromised informants and family members that Hizballah did not find first. Whatever intelligence information they provided would have come to an immediate end. The U.S. military would have to identify new strike targets.
The whole episode certainly qualifies as one of many Iran-Hizballah intelligence successes that damaged American foreign policy strategies. Earlier this year, for instance, the FBI arrested alleged Iranian agent Kaveh Afrasiabi for staging a 13-year influence operation inside the United States. The New York-based Iranian wrote opinion editorials for major U.S. media, posing as an independent analyst, and appeared regularly on television spouting talking points shaped and approved by the Iranian regime.
In 2018, U.S. counter-intelligence uncovered significant Hizballah "Unit 910" intelligence collection in New York and Michigan by operatives who had built assassination and attack target lists inside the United States.
About a decade ago, Hizballah penetrated CIA operations in Lebanon and identified at least 10 American officers after surveilling and photographing them meeting with paid secret informants at Pizza Hut and Starbucks. After Hizballah publicly named all of the spies and informants, the CIA's Beirut office had to be disbanded and reconstructed.
It bears mentioning that the vast majority of America's Arabic-speaking contractors have worked with American troops with unflinching loyalty. For their service, the U.S. granted thousands of visas for them to live in the United States, ostensibly after much security vetting.
But security vetting obviously is never foolproof. Too many resettled foreign Iraqis who fought with or otherwise assisted American troops were predisposed to succumb to jihadist ideology.
The Thompson case serves as a reminder that implacable enemies at home and abroad will continue to find this American vulnerability.
Todd Bensman, author of America's Covert Border War, The Untold Story of the Nation's Battle to Prevent Jihadist Infiltration, serves as Senior National Security Fellow for the Center for Immigration Studies. Follow him on Twitter @BensmanTodd