The ruthless mprisoned leader of a Palestinian crime family tried not once but twice to contract the assassinations of the officers who put one of the nation's most prolific retail theft rings out of business. It was an operation with terrorist ties involving a family that hated America
FORT WORTH, Texas – At home and off duty, Fort Worth Police Detective Scott Campbell never lets two semi-automatic Gock .45s stray far from his shooting hand. He sleeps with his hand on one, and while awake, he eats and watches television with both weapons close by. Det. Campbell's wife keeps a loaded gun close at hand too, even though she is a stay-at-home mom who cares for the couple's two young children, ages 4 and 1.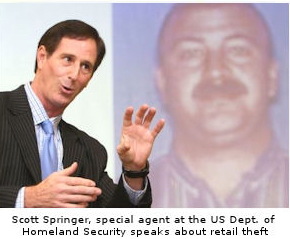 Det. Campbell and his wife go to these extraordinary lengths because they and their children have been marked for assassination. A ruthless criminal crime family he spent years investigating and helped break up in 2003 wants them dead. Federal authorities confirm that the Palestinian gang known as the Ghali crime family," which ran one of the nation's most prolific retail theft rings from Fort Worth, has hatched what one top official called a "credible plot from behind bars."
The plot targets Campbell, his family, and Campbell's longtime partner in the investigations, U.S. Immigration and Customs Enforcement Agent Scott Springer.

When informed of the contract hit targeting his family, Det. Campbell sent
his wife and children into hiding for almost the entire month of March. In an exclusive interview at the time, Det. Campbell said he all but stopped thinking like a cop.
"To hear my son go, 'Dad, when are the bad men going to quit coming after us?' I was mad. I wanted retribution for someone messing with my family," Det. Campbell said. "I had to take myself out of my cops' shoes and put myself into a husband and father's shoes, and my job wasn't to take care of anyone else except my family."

It was not the gang's first contract murder plot that federal authorities uncovered. The first murder plot by the Ghali organization targeted Agent Springer and the federal prosecutor on the case, Joe Revesz. Court transcripts show that an effort by the jailed family leader Mohammad Ghali to hire Crip gang members to arrange the hits for $500 was discovered in October 2003 as he was awaiting trial and most of his associates were in jail. The plot was effectively foiled with audio surveillance and jailhouse informants before it could progress much beyond the planning stages. That and a subsequent attempt by Ghali to bribe customs agents by giving them a free SUV was cited in February by a federal judge as grounds to stack years more prison time on the crime family's convicted leader, Mohammad Ghali.
But unlike that first plot, authorities have no idea how far the new second plot has progressed since discovering it in early March, and this lack of knowledge has sent Det. Campbell and his wife on an unrelenting roller- coaster of anxiety. He is hardly alone.
Multiple sources confirm that shots have been fired at the home of a police informant who worked on the Ghali case while many other informants working with the government also received threats of physical violence. Officials confirm that the new plot prompted the Dallas office of the U.S. Marshals Service, mindful of recent violence targeting criminal justice officials in Tyler, to deploy around the home of U.S. District Judge Barbara Lynn in recent months.
Little is known about the new plot – officials won't talk about it on the record. But CBS-11 has learned that the plot again involves overtures to Crip gang members, as well as an offer of money for assassins on the outside to buy untraceable weapons to do the job.

Since being warned of the plot, Det. Campbell says his nerves have settled and he hopes federal investigators are handling the problem on his behalf.

Crime boss wanted "to peel our skin off with a razor"

Agent Springer, an investigator with the Dallas-based office of U.S. Immigration and Customs Enforcement, declined to comment about the second assassination plot against him. In courtroom testimony about the first murder plot against him, Agent Springer testified that Ghali had told a
jailhouse informant "that he would like to stand before our families and us and peel our skin off with a razor."

Agent Springer's boss, ICE Special Agent in Charge Ken Cates, spoke of the unusual persistance of the Palestinian gang's continued plotting from behind bars.

"There does continue to be credible threats against our agents and against the detective that were involved and in fact we continue to conduct investigations, both in the immigration arena, as well as in the customs law arena…directly related to the continuing threats," Cates told CBS-11 last month.

Cates attributes the plots to cultural and sociological factors.

"These defendants were foreign born. They were from Palestine and had Jordanian citizenship," Cates said. "I think that that's the way business was done in the environments they were raised in and they're familiar with, that if you can't resolve your problem one way, then you certainly can take another shot at it."

But a different motive may be at work: CBS-11 has learned that the Ghali organization continues to operate its illegal business from behind bars, using unjailed associates on the outside to continue the retail theft operations all over North Texas.
Those who are jailed learned during trial testimony that Det. Campbell and Agent Springer were the ones who put them away and in doing so had become rare national experts on the highly lucrative retail theft business, ones who perhaps could still shut down the ongoing activities if called upon to do so. In June, 2004, the National Retail Federation acknowledged the expertise of Agent Springer and Det. Campbell by lauding their work on the Ghali case.

"This merchandise really was as profitable, or more profitable…than cocaine or marijuana," Cates said. "So when you start disrupting people's illicit gains you hit them where they live, and it's very, very, very likely that they're going to strike back with everything they have at their disposal."

INVESTIGATION BEGINS WITH INFANT FORMULA

The story begins nine years ago, when Det. Campbell and Agent Springer formed a special joint federal operation to investigate a North Texas-based infant formula theft ring that generated untold millions in ill-gotten gains. In the mid-1990s, a criminal gang of Palestinians and Egyptians was running a large network of thieves who would steal infant formula from retail shelves.

They would sell it, for pennies on the dollar, to convenience store operators who were part of the organization. The merchandise would be repackaged and sold back to legitimate retailers and wholesalers. Large retail chains across Texas and elsewhere around the nation complained that similar theft rings run by Middle Eastern immigrants were costing them tens of millions of dollars in losses, but law enforcement seemed unable to do much.
But by 2000, the efforts by Campbell and Springer paid off in North Texas. The gang was dismantled in a series of raids and federal convictions that would later be overturned on various technicalities by the Fifth Circuit Court of Appeals. Remnants of the original gang led by Palestinian immigrant Mohammad Ghali and members of his family meanwhile moved in to fill the void.

Immediately after the attacks of 9-11, informants called the FBI's Joint
Terrorism Task Force and other law enforcement agencies to allege that the
Ghali crime family had built the illegal business back up. They allegedly
were shipping millions in illegal proceeds to the Middle East to help finance
terrorist groups.
On Sept. 12, 2001, the Department of Homeland Security initiated a terror financing investigation into the Ghali organization. Agent Springer and Det. Campbell were put in charge. They mounted an elaborate undercover operation that, over the next two years, would use video and audio surveillance, wiretaps and paid informants to uncover a vast operation earning up to $1 million per month. The organization was dismantled in mid-2003 with a series of raids and arrests that led to the indictments and convictions of more than 25 people.

According to records, surveillance tapes and case file materials examined by CBS-11, the Ghali organization was more elaborate and sophisticated than the infant formula operation broken up a few years earlier. The organization recruited hundreds of drug addicts to shoplift from the pharmacy departments of major retail stores across the country. Sometimes the thieves were outfitted with rented vans, hotel rooms and shopping lists of what to steal in other states and cities. They preferred products in high demand that would move most quickly and profitably.

The thieves shoplifted small packages of high-end medicinal products such as glucose test strips, Nicorette chewing gum, pregnancy test kits, anti-acid products, razors, disposable cameras and dozens of other popular sundry items.

The gang used mom and pop grocery stores in depressed Fort Worth neighborhoods as collection points for the stolen loot. From there, the products would be moved to a warehouse where Ghali had set up a front company as a distributor. During the undercover transactions, Ghali would often signal that he was in the market for stolen products by saying he had assembled a shipment from "Ali Baba," a reference to the classic tale "Ali Baba and the 40 Thieves" taken from the book "Arabian Nights." The stolen products sometimes ended up back in the stores where the products had originally been stolen.

Deeply anti-American sentiments recorded, terror ties investigated

Along the way, agents listening in on conversations would hear expressions of anti-American sentiment and an abiding disdain for American institutions.

Det. Campbell said these expressions reveal a general attitude that helps explain to him how the Ghali crime organization could pursue assassination and bribery plots against law enforcement officials.

For instance, agents were listening in when Ghali and several of his associates watched Arabic news channel reports about the impending U.S. invasion of Iraq.

According to translated transcripts, Ghali said he hoped Iraqi troops "use chemical gas and see hundreds of American soldiers dying of gas."

Det. Campbell, who monitored many of the wiretapped conversations, said some of these diatribes angered him but that he pressed on with the criminal case.

"You hear these individuals come in and talk about President Bush, Iraq , how they hated us. I mean, these individuals here hated us. They wanted us dead. Their main complaint was how they hated our freedoms over here, how we were too fortunate to have freedoms like we have and that some of those freedoms have to be taken away and that we should pay for the sins of being Americans and Christians."

As the investigation of the Ghali organization continued, prosecutors decided it should be handled strictly as a criminal matter rather than a terror investigation. The decision was in line with an unwritten Department of Justice directive for federal investigative agencies to use the quickest legal means to jail or deport anyone with suspected terrorist ties. It therefore remains unclear where the millions generated by the Ghali organization ended up.

Records show the crime family spent relatively little on themselves in North Texas and sent the bulk of their profits to the Middle East, where authorities pretty much lost the trail.
According to case file records, some members of the organization boasted of direct past participation in the killing of Israelis and of ties with top Palestinian officials in the Occupied Territories near Israel where U.S. designated terrorist groups operated against civilians. Records from the Ghali case file also show that the organization frequently did business with Palestinians who have been convicted of similar retail theft operations over the past two years but also have been investigated for allegedly financing terrorism.

One such organization was broken up in Phoenix, another in Kentucky, and one in Michigan. Ghali's organization did business with them all but no terror-related charges have ever been brought against these business partners.

On Nov. 14, 2004, several months after Ghali was arrested, FBI Director Robert Mueller gave a speech in Los Angeles during which he linked organized theft of infant formula to terrorist financing.

"Often there is a nexus between criminal activity and terrorism. We see organized crime laundering money for drug groups, drug groups selling weapons to terrorists, terrorists committing white-collar fraud to raise money for their operations," Director Mueller said. "In a number of our cases, the subjects of these investigations are suspected of providing financial support to terrorist organizations such as Hamas and Hezbollah. As you can see, frequently these investigations are not just criminal, but are also counterterrorism investigations."